Students can now study at Biosphere 2 under lower UA tuition

Monday December 3, 2001

Special program will allow students to apply up to 16 credits to their degree starting this spring

UA students can soon study alongside scholars from New York City's prestigious Columbia University at Biosphere 2 outside Tucson for the same tuition that they currently pay at UA.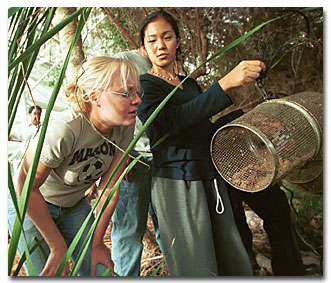 RANDY METCALF/Arizona Daily Wildcat
UA junior Aubrey Cunningham, left, and Barnard College junior Eunsoo Lim inspect a cage, with crayfish in it, at the Biosphere 2 Friday afternoon. Students have recently been allowed to take classes at the Biosphere 2 through their tuition at the UA.
Mike Omiencinski, director of admissions for Biosphere 2, said University of Arizona students would save more than $10,000 by paying their Arizona tuition rate rather than the Columbia tuition of $13,000 a semester.
"Biosphere 2 provides students with a tightly focused, integrated and immersive educational opportunity that complements their experiences at Arizona's great state schools," said Charles Wood, director of education at the Biosphere 2 Center.
The Biosphere 2 Center, located about 35 miles north of the UA campus, is Columbia University's 250-acre western campus. The center was designed to deepen the understanding of earth systems that are vital to the decisions that will affect the Earth's future.
The decision to implement the program was announced Nov. 20. Under the program, which will officially begin in spring 2002, UA students can apply to be one of 100 students invited to study at the Biosphere 2 center each semester. UA students can apply 16 credit hours to their science major and/or general elective credit through the Earth Semester, a program focusing on the study of earth systems and environmental policy, or the Universe Semester, which focuses on astronomy and astrophysics.
Students are educated in a classroom setting by qualified professors from Columbia University. Students attend classes such as Conservation Biology and Earth System Science in the Earth semester and Observational Astronomy and Stellar Astrophysics in the Universe Semester. Students also complete a field research project and take field trips.
Students live at the Biosphere 2 site in fully equipped apartments with a kitchen, dining room, living area and full bath but must provide their own meals. The center provides a weekly shuttle to grocery shopping, and often to entertainment sites around the Tucson area. The campus includes a 3.5-acre, glass-enclosed research laboratory and provides students with computer labs, a small recreational gym and a swimming pool.
"Living in the splendid wilderness of Biosphere 2 and sharing cooking and life responsibilities fosters an intensely satisfying learning experience that students often claim transforms their lives," Wood said.
Students often spend time in the actual Biosphere, but can obtain more hands-on experience by assisting professors with their research, and selecting a research project that involves inside work.
Interested students may visit the Biosphere 2 Center Web site at www.bio2.edu, call Biosphere 2 Student Admissions at 896-2888 or attend the Biosphere 2 Holiday Open House on Saturday from 8:30 a.m. - 5 p.m.