'Loveline' addresses sex, drugs, relationships

Monday December 3, 2001

Nearly 1,600 people attend Centennial show starring Dr. Drew, Adam Carolla

While ophidiphobia, or a fear of snakes, doesn't particularly relate to the topic of sex, Adam Carolla and Dr. Drew Pinsky say that fear actually bears a strong tie to phallophobia - fear of a penis.

At Saturday night's live presentation of "Loveline," featuring sexperts Pinsky and Carolla, an audience member brought up the question of why she holds a phobia toward the male reproductive organ.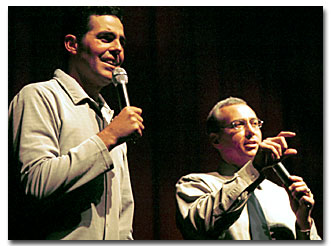 RANDY METCALF/Arizona Daily Wildcat
Adam Carolla and Dr. Drew Pinsky answer an audience member's question about her boyfriend's penis size Saturday night at Centennial Hall. Nearly 1,600 people attended the "Loveline" show, filling Centennial Hall to about two-thirds capacity.
"Are you afraid of snakes?" Pinsky asked.
"Yes," said the student in the audience.
"Then the two go together," Pinsky said.
Nearly 1,600 people attended the show, filling Centennial Hall to about two-thirds capacity. Although attendance lagged in comparison to the sellout crowd for a previous "Loveline" showing in 1999, Elizabeth Young, director of the Associated Students of University of Arizona Speakers Board, said she thought the show was a great success.
"The students had a good time, and that's what we were trying to accomplish," she said.
Questions ranging from long-term relationships to marijuana use to sexual performance were raised during the hour-long show.
One University of Arizona student asked a question about his girlfriend's constant fear of getting pregnant despite her usage of a birth control pill. Pinsky assured the student that the chance of her getting pregnant while on the pill is 0.04 percent.
"If she gets pregnant, call the church," Pinsky said. "Tell them there has been an immaculate conception."
Another question was asked addressing why heterosexual men seem to be interested in lesbians. Carolla promptly responded to the question.
"It's very simple," said Carolla. "Two vaginas."
Pinsky agreed.
Pinsky also said that only 5 percent to 10 percent of females are able to achieve an orgasm during sexual intercourse at the age of 19, but 50 percent to 60 percent of 19-year-old girls can achieve an orgasm while they are given oral sex.
Pinsky continued to take questions despite Carolla's constant mockery.
"Are you getting paid by the question?" Carolla asked Pinsky after he took another question from the audience.
Pinsky said his drive to continue asking questions was fueled by the enthusiasm of the audience.
After the show, Pinsky said he feels the major problem on college campuses today is the lack of dating. Pinsky said more students who have recently graduated from college said they wondered why they never dated anyone.
"The concept of dating seems anti-coed-ic," Pinsky said.
Carolla said that though the show in general might not help the person asking the question, someone in the audience could benefit from his advice.
"Maybe someone who's listening is at a crossroads," Carolla said.