Dismal first half dooms Wildcats

Monday December 3, 2001

Gardner's career-high 34 points not enough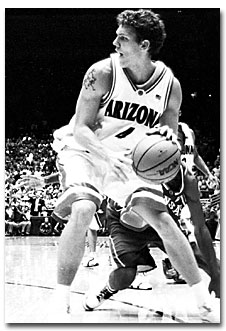 JON HELGASON/Arizona Daily Wildcat
Junior forward Luke Walton looks for an open man during the UA's game against Kansas Saturday in McKale Center. The Wildcats fell to the Jayhawks 105-97 despite Walton's near triple-double.
Arizona head coach Lute Olson said all last week that Kansas's inside game was one of the best in the country. The Jayhawks did not disappoint Saturday, as they out-worked, outran and out-shot the UA men's basketball team en route to a 105-97 victory in McKale Center.
"There is no question the better team won," Olson said. "You can see (Kansas's) experience. They shot the ball better."
Junior guard Jason Gardner - who scored a career-high 34 points - said the No. 3 Wildcats need to play well in all areas to beat a team like No. 8 Kansas.
"The reason why we did lose was the missed free throws; I missed a couple free throws and had a couple turnovers," Gardner said. "By losing this game, we will put our heads back where they need to be."
The KU frontcourt made its presence felt early. It took just five seconds for junior forward Nick Collison to give the Jayhawks the lead, which they would relinquish just twice during the game.
Arizona (3-1) kept the game close behind the shooting of Gardner.
The junior point guard gave the Wildcats a 13-12 lead when he hit the second of his eight three-pointers with 15:51 remaining in the first half.
Senior guard Jeff Boschee responded with a three-pointer of his own, sparking a 9-2 Kansas run that gave KU the lead. The Jayhawks would never trail again, as Arizona's shooting went cold.
Kansas (4-1) outran Arizona for numerous uncontested layups after UA failed to get back on defense.
KU led by as many as 17 and ended the first half with a 53-38 lead while shooting 56.8 percent from the field, while Arizona managed to hit just 29 percent (12-of-41) from the field.
"They got out on the break and hurt us," Olson said. "We had a lot of opportunities. We had a lot of blown lay-ins that allowed them to get that lead up to where it was."
In the second half, Arizona came out with a new fire and cut into the Kansas lead, whipping the 14,562 at McKale Center into a frenzy that Kansas junior forward Drew Gooden said was unmatched in terms of volume.
"This is the loudest place that I have played in my collegiate career," Gooden said. "It was a great win for us."
The defensive intensity increased greatly in the second half for Arizona and allowed the Wildcats to creep back in the game.
"We need to play hard for 40 minutes," Olson said. "It was good to see our guys battle back."
Gardner kept his team close with his outside shooting, and the Wildcats pulled to within four at 87-83 with 3:43 remaining after a pair of free throws by junior forward Luke Walton.
Walton finished with 20 points, 11 rebounds and nine assists.
Following Walton's free throws, Boschee scored five points and helped Kansas push the lead back to 10 points.
But Arizona would not go away.
Gardner hit another three-pointer to trim the lead to seven.
Moments later, with Kansas clinging to a 94-89 lead, Gardner drove the baseline, running into Kansas forward Jeff Carey. Much to the displeasure of the crowd, Gardner was called for charging.
Gooden was fouled seconds later and made both free throws, bumping the Jayhawk lead to 96-89.
With under a minute remaining, Arizona pulled to within four again after a three-pointer by junior forward Rick Anderson. But Kansas, which hit 11-of-12 free throws in the final 1:11, secured the win.
Gardner said he thought the Wildcats lost to a top-quality team.
"I am not really disappointed," Gardner said. "They are an experienced team. They just hit the shots and we didn't. It was more of an experience factor than anything. Kansas just played well and we didn't."
Arizona will look to regroup when they take on No. 2 Illinois tomorrow at America West Arena in Phoenix.