Dot dot dot... Irish don't stand a prayer anymore

Monday December 3, 2001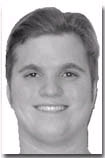 Ryan Finley
That noise you're hearing is the sound of Notre Dame fans throughout the country celebrating the firing of coach Bob Davie.
Guess what? They're idiots.
Just a year ago, the ND brass gave Davie - fresh off a trip to the Fiesta Bowl - a five-year contract extension and their undying loyalty. That lasted a whole year.
Now, because the Irish went 5-6 against good football teams - Tennessee, Stanford, Nebraska and Texas A&M, to name a few - it's the coach's fault.
It's not because Notre Dame has average players and can't compete with some of the best teams in the country. It's not because Notre Dame as an institution has such high academic standards that most high school players either can't get in or don't want to actually study during college. It's not because Irish arrogance has left Notre Dame's recruiting strategies so disconnected with the nation's best players that few great preps don't even think about going there. It's not because their antiquated offensive and defensive schemes leave few players prepared for the NFL.
It's the coach. Yeah, the coach. After all, he's the one who calls the plays that don't go anywhere. He's the one who hired the staff that can't teach these players to be bigger, stronger and faster than Tennessee. It's his fault.
Now I'm not saying that I liked Davie at all. If anything, the reporter in me senses that it was his unwillingness to change - whether it was offensive schemes or defensive coordinators - that ultimately got him canned.
But it's not all his fault. Lou Holtz, more often than not, had average teams at Notre Dame. But he - unlike Davie - knew how to keep his head above water.
Holtz schmoozed alumni. He motivated players with sermons that would make any Southern preacher proud. He wrote books talking about how great life at Notre Dame was. He charmed the media.
And I guess that's what pisses me off most - the alumni, boosters and arrogance. Head coaches at Notre Dame, no matter who they are, can't just win games. They have to win big against everyone, keep the boosters happy, charm everyone they meet and maybe go on "The Tonight Show" once or twice. All with sub-par talent.
And all Notre Dame head coaches, no matter who they are, realize after a few years that it's impossible to make everyone happy. They can't get the country's best players because the school is tough to get into academically. They refuse to fight with other schools for recruits. They don't take many junior-college transfers. And then when undersized, out-skilled players lose ballgames, the fans wonder who to blame.
They need to look in the mirror. Notre Dame is no longer a football power. They may have the same fight song and uniforms as the ND teams that dominated football for the better part of the 20th century, but they're playing a new game now.
College football is full of parity, as evidenced every weekend. Maryland, Oregon and Fresno State - schools that were barely on the sports map during the Fighting Irish's heyday - would wipe the floor with the Notre Dame if the teams were to play tomorrow. Heck, the Irish would be lucky to beat Arizona.
Irish fans need to pull their heads out of their, er, golden domes and realize that they're often lucky to play with Air Force and Rutgers.
It's wasn't the coach's fault, though he wasn't perfect.
The sins of the Notre Dame football program cannot be purged with a prayer and lit candle, though an attitude adjustment would help.