Wildcats advance to Sweet 16

Monday December 3, 2001

The UA women's volleyball team overcame injury and adversity to advance to its third straight Sweet 16 in this year's NCAA Tournament.

Arizona junior outside hitter Shannon Torregrosa was unable to play in the team's first match due to a high ankle sprain.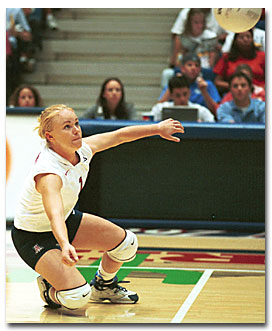 file photo/Arizona Daily Wildcat
UA junior defensive specialist Rachel Williams digs a ball during a match earlier this season in McKale Center. The Wildcats advanced to the Sweet 16 in the NCAA Tournament after weekend wins against Eastern Illinois and Illinois.
However, Torregrosa's loss did not faze the Wildcats.
"It was really good for us to win these two matches on the road," UA head coach David Rubio said. "In every round we are going to have to play hard matches on the road. It was a really good test for us."
On Friday Arizona dismantled Eastern Illinois 3-0 (30-14, 30-14, 30-21). As a team, UA dominated the Panthers in every statistical category. The Wildcat defense held EIU to a .027 hitting percentage while not allowing a single Panther to accumulate double-digits kills.
To counter, UA's offense hit .360 against EIU. Individually, junior outside hitter Lisa Rutledge finished with a match-high 17 kills to pass the 1,000-kill mark for her career.
But the real test for UA came Saturday as they played host school Illinois.
It wasn't easy, but Arizona fought off a scrappy Illini team 3-1 (32-30, 30-26, 27-30, 30-20).
Torregrosa was back on the court for the Wildcats in that game, and she gave the Wildcats' offense a boost, finishing the match with 12 kills.
The Wildcats trailed 23-27 in the opening game, but a rally led by Rutledge, who had six kills in the game, helped clinch the victory, 32-30. Senior Jill Talbot and junior middle blocker Stefani Saragosa added five kills and four kills, respectively.
"In the first two games, we were unable to find our rhythm," Rubio said. "We played just well enough to win, but I was proud to see the way we handled it. We fought through it."
Game three saw the Wildcats lose focus.
For the match, UA finished with 25 attack errors, which included 12 errors in game three alone.
However, UA head coach David Rubio regrouped the Wildcats, and they were too much for Illinois to handle in game four. Senior setter Dana Burkholder led the way for Arizona in the fourth game with 17 assists, five kills and four digs. The Wildcats never trailed in game four, hitting .486 to lead by as much as 12.
For the match, Talbot finished with a match-high 18 kills, and Rutledge added 14 kills.
The middle attack, led by senior Erin Sebbas and Saragosa, added 10 and 14 kills respectively.
"We're very fortunate to be coming home with two wins," Rubio said. "Illinois played a terrific match tonight and were a great opponent. They came out well prepared and gave us everything they had."
Arizona travels to Los Angeles to take on Pacific in its Sweet 16 match Thursday.