Smuggler's Run 2 pilfers the grade

Monday December 3, 2001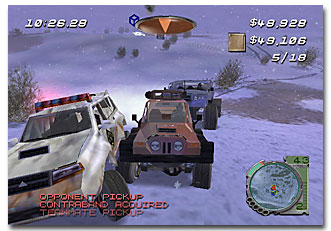 Screen shot: Smuggler's Run 2
Take a trip into Vietnam and Russia in the new Playstation 2 game Smuggler's Run 2. Even though the play of SR2 is much like the first, the features of the new game make for an awesome improvement.
SR2 has the same basic game play as the original version. You're a person who is strapped for cash, and with different vehicles, it is your job to transport an assortment of contraband without being arrested by an array of authoritative personnel.
That is where the similarities stop.
In SR2, the vehicles are equipped with defensive mechanisms that make the game-play a little more enjoyable. They have countermeasures such as a smokescreen, bombs, oil slicks and nitro bursts.
Since the cars are a little bit tougher, the terrain is a little bit tougher too. In Russia, the ground is littered with mines, and the car has to dodge arsenal from heavy tank fire, creating added obstacles to the game. In Vietnam, the wet and dry terrain affects the traction of the vehicle and affects it differently according to which car is being used.
Graphically, SR2 is wonderful. In past games, the background is the background. In SR2, what is seen in the distance can be driven to. In SR1, the background faded out to a white cloud, or "fogged out." SR2 doesn't fog out - as far as the screen shows is as far as the car can go.
The only aspect of the game lacking a high grade is the story line. There are slight briefings before each mission that give a lame excuse for why you are running all across the farm lands of Vietnam to get a vase and bring it to a helicopter on the other side of the map. But it is only a video game, not a movie. The game is what needs to be intriguing not the talking and cut scenes.
SR2 gets an A-. The game is challenging with new features, it has some of the old types of missions and some new types also. The storyline lacks a little but not enough to deviate from the game itself.