Anthropology student's work focuses on the life of well-known anthropologist

Monday December 3, 2001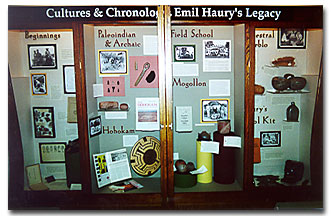 Photo courtesy the Arizona State Museum
The exhibit "Cultures and Chronology: Emil Haury's Legacy," curated by anthropology senior Erin O'Meara, is currently on display on the Arizona State Museum's second floor. The exhibit will remain at the museum indefinitely.
Anthropologists spend their careers studying the lives of others. But after a lifetime of writing and researching, an anthropologist's own life can sometimes become just as worthy of research and study.
Erin O'Meara, an honors anthropology senior, found the life of former Arizona State Museum director Emil Haury's life so fascinating, she made his work the subject of her honors thesis and his life the basis for an exhibit she created for the museum.
O'Meara first became interested in the life of Haury last spring while working on her senior thesis, which addressed a specific aspect of Haury's work: his research into and discovery of an unknown Native American culture. But while researching for her thesis, she found Haury's life to be worthy of further research.
"Haury's work was very holistic because he had done work in every cultural setting in the Southwest," O'Meara said. "Today people sub-specialize in gender in a certain culture and sometimes miss the 'big picture.'"
Since Haury, who passed away several years ago, was the head of the UA anthropology department and was involved with the Arizona State Museum, O'Meara found that many of the people at the museum remembered him.
"Everyone in the museum knew him," O'Meara said. "Everyone has their Emil Haury story."
ASM archivist Alan Ferg offered some information on Haury in a written statement.
"He helped shape and train several generations of archaeologists, who would subsequently be responsible for many of the techniques still used in Southwestern archaeology today," Ferg said.
The idea for the exhibit came about after the UA library donated some of its large unused exhibit cabinets to the museum. O'Meara, along with Ferg, saw this as an opportunity to create an exhibit honoring Haury. Haury left the museum many of his personal and professional belongings - everything from his fraternity pins to his books. O'Meara collected these items for the exhibit from the museum's photo, artifact and book collections for the exhibit.
O'Meara received help putting together the exhibit from many members of the ASM staff, which she found to be a very rewarding aspect of her work as a guest curator.
"This was the best part of the creation process of the exhibit, being able to hang out with so many great employees of the museum and get to see what they do on a daily basis, as well as have their expertise at my fingertips for this project," O'Meara said. "It was very humbling working with retired faculty members, hearing their stories and histories."
She added that she was "really very anxious" about how the exhibit would be received, because so many people at the museum and at the university knew Haury personally. However, her commitment to the exhibit (about 20 of the 30 hours a week of her internship) paid off.
"The result is a highly professional and educational exhibit, which opened Nov. 8 to a standing-room-only crowd, which included the widow and son of the late Emil Haury," Darlene Lizaragga, ASM marketing coordinator, said in the exhibit's press release.
Between the exhibit, her classes and her honors thesis, O'Meara said she was very busy this semester.
"I'm very burned, but it was worth it," O'Meara said. "It was stressful, but it was good stress."
O'Meara plans to attend graduate school and study library information science.
The exhibit, "Cultures and Chronology: Emil Haury's Legacy" is located on the second floor of the museum. It will remain at the museum indefinitely. For more information, call 621-6302.