Pete Best, Others Honor Harrison
By Associated Press
---
ARIZONA DAILY WILDCAT

Monday December 3, 2001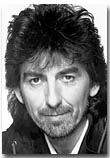 George Harrison - former Beatle
CHICAGO -- In the 60s, Denny Laine and his Moody Blues band opened for the Beatles. On Saturday he was onstage again, this time with former Beatles drummer Pete Best paying tribute to George Harrison.
Two days after hearing Harrison, 58, had died of cancer, Laine, Best, Spencer Davis, and more than a dozen other musicians remembered the "quiet Beatle" at the House of Blues.
"It was an uncanny feeling," said Laine, who also played in Paul McCartney's post-Beatles group, Wings. "George was a very close friend. It's comforting to play like this."
As many as 16 musicians - including the members of American English, a costumed Beatles cover band - packed the stage to play a range of Beatles songs, from "Norwegian Wood" to "Let it Be".
A crowd of several hundred, often recognizing the music after a single guitar riff, applauded wildly, flickering their lighters, and pumping their fists.
"It's kind of eerie," said Ruth Membiela, 31. "But it's very good to be here."
The segues between songs were often somber.
"George was a very special person," Laine said. "I know you all loved him. I loved him. God bless you George."
At one point, Davis reminded the crowd that John Lennon, shot by a deranged fan in 1980, had also died young.
"This is something for John and George," Davis said before launching into a rendition of "Got to Get You Into My Life".
Best, who embarked on his own solo career, was silent through most of the show. His most animated display came late in the concert when a chant of "Best, Best, Best" moved the drummer to stand and bow.