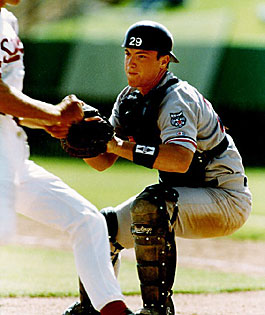 Photo courtesy of Rob Frisbee

Rob Frisbee, a 1995 UA graduate and recent winner of CBS's reality TV show "The Amazing Race,"played baseball for four years at UA. Frisbee split a million-dollar prize with his friend and partner in the race, Brennan Swain.

By Diana Young
Arizona Daily Wildcat
Thursday Jan. 10, 2002

Former Wildcat splits $1 million with best friend, partner

He spent four years running bases as a Wildcat baseball player, and now he has graduated to running races around the world.

Only this time there was more than a high-five and pat on the back waiting for him at the finish line.

Rob Frisbee, 28, a 1995 University of Arizona graduate and veteran of the UA baseball team, along with friend and co-worker Brennan Swain, is splitting a million-dollar prize from the pairs victory on "The Amazing Race," a CBS reality TV show in which teams competed in a race around the globe.

Frisbee and Swain, who both work as lawyers in Los Angeles, traveled 45,000 miles in 31 days to locations such as South Africa, Zimbabwe, Zaire, France, Tunisia, Italy, India, Thailand, China, Alaska and New York City.

"Our strategy was to keep drama to the minimum," Frisbee said. "We know each other's strengths and weaknesses, and we know how to play with them."

Frisbee credits his athletic background as a factor in winning the race. He and Swain both grew up athletes and knew the importance of persistence and teamwork.

"You put your nose to the grindstone, you look for the goal and you go for it," Frisbee said.

Parts of the race included events like diving, bungee jumping, rock climbing and gliding.

"The hardest thing I had to do on the whole thing was the glacier climb with ice picks," Frisbee said. "That was physically the hardest."

The hardest part "emotionally and spiritually" for Frisbee was playing the game through India. He said the poverty in India was difficult to witness.

"You want to help, but you can't, and it was emotionally crushing," he said.

During the 31 days in which Frisbee and Swain traveled the globe, they were not allowed to contact friends or family. This proved to be difficult for Frisbee's mother, Linda Frisbee, who kept a journal to vent her worries and concerns.

"From a mother's perspective, I was worried about him because obviously I know when you go on an adventure like that, it can't be dull stuff or else nobody would watch (the show)," she said.

But despite her worries for her son, she said she expected him to do well and was proud of his efforts in the game.

"I raised him to be a careful and good kid, so I knew he wouldn't take any unnecessary chances," she said. "I was extremely pleased with the fact that they used their talent and their knowledge of each other's strengths."

Frisbee, who has been practicing corporate law for three years, recently set up his own practice but said he hopes to pursue his love for writing. He graduated from UA as 1995's Business College Graduate of the Year but managed to structure his classes to obtain a minor in creative writing.

Frisbee said after taxes, he and Swain each wound up with about $300,000 - money that Frisbee will use to pursue a writing career.

"I'm going to live for a year and do fun things · then really, really push the writing," he said.

"I have always been a writer, but I'd like to get paid to do it," he said, laughing. "That's what my heart is set on."

Besides the money he won, Frisbee's life has changed in other ways since the show aired.

"We get daily marriage proposals," Frisbee said. "I think the strangest thing that happened was that one guy wrote me three or four times offering me his sister in marriage."

While he may have turned down that opportunity, he's still waiting to see what other possibilities arise from the show. Frisbee, who worked as a model to put himself through Harvard Law School, said the "notoriety" he gained from the show has given his modeling career a boost.

"I think that the word 'notoriety' is more applicable to reality TV than 'fame,'" he said. As for his 15 minutes of fame, "You've got to take advantage of it, and it sure is fun, but it's nothing to hang your life's hat on."

Frisbee was not allowed to reveal details of the show until after it had aired. When the last episode aired Dec. 13, Frisbee and his mother watched the show together.

"When they won, I looked at him and he looked at me, and we both cried," Linda Frisbee said.

"As a mother, you're proud of everything (your child does)," she said. "He has had just an unusually blessed life, and yet most of that comes from his earning it along the way."