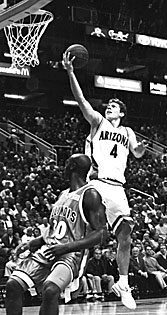 KEVIN KLAUS/Arizona Daily Wildcat

UA junior forward Luke Walton goes for a layup against Illinois earlier this season in America West Arena. Walton is expected to return against Washington State tonight when the Wildcats play the Cougars in Pullman, Wash.

By Jeff Lund
Arizona Daily Wildcat
Thursday Jan. 10, 2002

Walton expected to return for Washington State game

After a shaky home stand, the No. 20 Wildcats (9-4, 2-2) hope to return to their dominant form, and a trip to the Pacific Northwest might be just what the doctor ordered.

Arizona tips off with Washington State tonight at 7 in Pullman, Wash.

Following a rare home split with the Oregon schools last weekend, Arizona will head to their home away from home. Arizona has won the last 32 games against Washington State (4-8, 0-4), but head coach Lute Olson said he knows this season has seen many surprises and has been anything but predictable.

"(WSU) have better athletes than they have had in a while," Olson said. "They have really good all-around basketball players. They have a fairly decent nucleus returning."

Losers of six straight, the Cougars are sitting at the bottom of the Pacific 10 Conference - just where they were picked to finish.

During the skid, WSU has lost by an average of 17 points per contest. However, all of their losses were to ranked teams, including two losses to No. 15 UCLA and two to Southern Cal.

The most recent defeat came at UCLA. The Bruins used a second-half spurt to turn a one-point halftime lead into a 12-point win.

Leading the way for Washington State is sophomore guard Marcus Moore. Moore dishes out 6.4 assists per game and is one of four Cougars averaging double figures. Moore's 13.9 points per game is a team best.

Senior center J Locklier, the 2001 Pac-10 Newcomer of the Year, leads the team in rebounding at 6.3 rebounds per outing and also nets 12.9 points.

Senior guard Mike Bush, a standout wide receiver on the Cougar football squad, adds athleticism to the Washington State's front court. Bush is fifth on the WSU all-time steals list and led the team in scoring last season.

Anchored by the sticky-fingered Bush, the WSU defense is allowing 73 points per game and has held opponents to 55 points on two occasions.

Fortunately for Arizona, junior forward Luke Walton, the team's assist and rebound leader, will be returning to give the Wildcats an offensive and defensive boost, though his playing time will be limited.

Walton will be playing for the first time since Dec. 28, when he strained his Achilles' tendon in a win over Pepperdine.

Associate head coach Jim Rosborough said that Walton will be watched carefully and used sparingly as to not re-aggravate the injury that kept the 6-foot-8 sparkplug sidelined.

"We don't want to rush him," Rosborough said. "(Walton) will probably play between 12 and 20 minutes."

The loss to Oregon at home and overcoming a 21-point deficit against Oregon State might just be what Arizona needed to get back on track. After tinkering on the brink of another blowout loss, Olson stressed the importance of staying focused from opening tip to the final horn.

"To be able to win the way that we won was exciting," Olson said. "We learned (against Oregon State) that every possession becomes important. We need to learn that every possession, starting with the first one, is important, not just the first one of the second half."