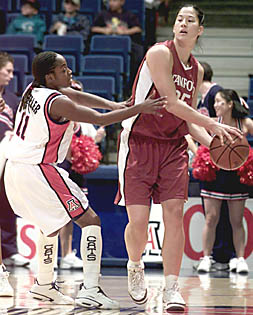 Associated Press

UA freshman guard Dee-Dee Wheeler defends a Stanford player earlier this season.

By Lindsey Manroel
Arizona Daily Wildcat
Thursday Jan. 10, 2002

The Arizona women's basketball team is on a mission to reclaim something it lost somewhere in the middle of its season - confidence.

After upsetting NCAA champion Notre Dame and the Women's National Invitational Tournament champion Ohio State to start the season, the Wildcats' winter break was anything but pleasant after losing five of their seven games during the vacation.

"We started off with a great season, and (winter break) didn't go well," freshman guard Dee-Dee Wheeler said. "We started by beating great teams and then losing to teams that we know we should have beat. We need to recover from it and know that it's over."

Arizona (5-8 overall, 1-4 Pacific 10 Conference) is on a three-game losing streak after being swept over the weekend by the Oregon schools.

The Wildcats suffered a 71-56 loss to Oregon State on Sunday and a 72-53 loss to Oregon.

Although winter break began on a positive note for UA with a 74-65 road win against Rice, Arizona's success rapidly spiraled downhill.

The Wildcats suffered a close 68-66 loss to Stephen F. Austin before being blown away by Stanford, 81-57.

UA barely picked up its first Pac-10 win of the season, squeezing by California 66-61.

UA then got crushed by Arizona State, losing 87-64 in Sun Devil territory.

Plagued by absences and injuries all season, the Wildcats suffered another blow - only this time it was on the sideline.

UA assistant coach Karen Caires resigned from her position Dec. 21, citing personal family reasons for her departure.

"I appreciate all of the work she's done here," UA head coach Joan Bonvicini said. "It's important for her to feel good about herself, and I just hope that she's okay."

Caires - who began her fourth year at UA this season - assisted in scouting, coordinating the defense and monitoring the athletes.

"Coach Caires' (departure) came as a surprise to us," senior forward Elizabeth Pickney said. "We're going to miss not having her at practice, her scouting reports and just her presence."

Although the position has not been filled, Bonvicini said she has many applicants and hopes to fill the position as soon as possible.

In a quest to regain their confidence, the Wildcats enter a three-game home stand beginning with Washington State tonight.

The Wildcats have plenty to improve on.

Among those in high priority, Bonvicini stressed the importance of being more aggressive on defense - primarily in the post - and being the aggressors on offense.

"We need to play more together as a team," Pickney said. "We need to play without hesitation; that will help us a lot."

Arizona rounds off its weekend against Washington on Saturday at 2 p.m. and then plays host to UC Santa Barbara on Monday.

Tonight's game tips off at 7 in McKale Center.