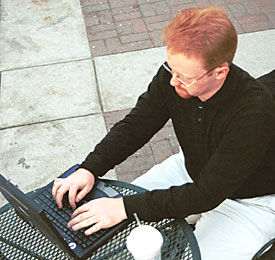 DAVID HARDEN/Arizona Daily Wildcat

Grant Simpson, editor-in-chief of Persona, a literary and arts magazine, reviews possible entries for the publication yesterday afternoon. Persona, which is publishing its first issue in February, is the first of its kind at the University of Arizona.

By Anne Gardner
Arizona Daily Wildcat
Thursday Jan. 10, 2002

Undergraduate literary magazine issues open call for artwork

Some might say that it's got a "persona" all its own.

Hailing back to 1978, Persona is a University of Arizona magazine devoted to showcasing artwork and literary work by undergraduate students - and it's looking for new submissions.

Grant Simpson, a senior majoring in English and creative writing, is this year's Persona editor in chief. He has issued an open call for any and all undergraduate students to submit poetry, prose, music, films and artwork to the magazine.

"It's open to all majors," Simpson said. "You don't have to be an art major or an English major to submit your work."

To enter a submission, take it to the Modern Languages building, Room 445, by Feb. 15. Attach a cover sheet to the art including your name, major, phone number, e-mail address and the last six digits of your CatCard number.

Visual art must be presented on slides, poetry is limited to five poems per entry and fiction and non-fiction literary work is limited to 15 pages. Music submissions are limited to three per person, and media arts submissions are limited to 15 minutes long.

The goal of Persona is to showcase the talent of UA undergraduates, Simpson said. For some students, he said, it has the additional bonus of benefiting their future.

Photo studio art senior Luke Stettner said getting some of his work published helps with his career.

"It looks great on a resume," he said.

Stettner said submitted photos in last year's edition of Persona from when he was studying in Europe.

"My friend Brett Jorgenson, who was one of the old designers (for Persona) told me about it," Stettner said. "I submitted five and they took two."

Christine Frerichs, also astudio art senior, had some of her artwork featured in last year's edition of the magazine.

Frerichs said she had two paintings in the magazine: One is an image of a couple in a bed, and the other is a portrait looking down on a nude figure. Most of Frerich's work is a critique of American marriages.

"It's very nice and high-quality for an undergraduate magazine," Frerichs said. "We don't have a chance to be published that much - it's an honor."

Simpson has also contributed poetry to the magazine in the past year as well.

"It's interesting how you can contribute one year as a writer and the next year as an editor," Simpson said. "It's a great experience."

Persona has expanded in the past few years by adding film and music to the usual literary standards; the magazine now includes a CD that has film clips and music.

"It's just a matter of trying to reach out to people in different mediums," Simpson said. "We don't want to confine our UA undergrad expression as being just literary."

Unfortunately, because of budget cuts, this year's issue may not contain as many film and music clips as in prior years - if it contains any at all.

"It takes money to make that stuff happen," Simpson said concerning the CDs. "Lots of it comes down to budget concerns."

Despite financial worries, Simpson said he believes there will be many submissions this year, especially in response to the events of Sept. 11.

"I'm sure we'll get a lot of expressive response about that," Simpson said.

Persona comes out at the end of April or early May and is available at an annual "Persona" reading and at the UofA Bookstore.