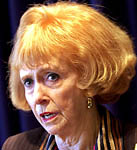 Arizona Gov. Jane Dee Hull

By Cyndy Cole
Arizona Daily Wildcat
Tuesday Jan. 15, 2002

Governor against tuition increase, but support for stable taxes may limit UA options for funding

Gov. Jane Dee Hull reaffirmed her intention to keep taxes at their current level, while not "crippling" universities with state budget cuts, in her State of the State Address yesterday.

Hull has taken a firm stance against raising taxes and tuition, giving the University of Arizona few places to look for funding.

"(The budget) should be balanced without reducing K-12 classroom funding and without crippling our universities, community colleges and state agencies," she said in her address.

However, the definition of what would be "crippling" is murky, said Democratic state Rep. Linda Lopez.

Lopez said Arizona universities have already taken debilitating cuts, which she will not support.

Last month, the Legislature passed a 4.56 percent - or $15.9 million - cut in state funding to UA. The cut came as a result of fiscal statewide belt-tightening, due to low tax revenues in a sagging economy.

The state deficit is expected to increase next year, and UA officials are afraid that the Legislature will reduce their 2003 budget even more. That debate officially began yesterday, as lawmakers convened at the Capitol for the first day of the new legislative session, where they will have to overcome what could be a nearly $1 billion state shortfall.

To combat the potential for increased cuts, Lopez proposed raising taxes and eliminating tax exemptions for those now receiving them.

Although Lopez's goal to raise taxes is a sharp contrast to Hull's anti-hike philosophy, she and the governor agreed on one point - now is not the time to raise tuition.

Rumors that UA President Peter Likins will ask for a 10 percent tuition increase in the fall have been circulating but have not been confirmed.

UA tuition is currently the second lowest in the country after Florida, and Likins has said in the past that he would like to slowly increase it to about the 38th lowest in the country - a several-hundred dollar increase for in-state students.

Likins will face significant opposition from Hull, who is "absolutely not" in favor of raising tuition, said her press secretary Francie Noyes.

"This is going to be an uphill battle...for the governor (who is) opposing a tuition increase, so we're hoping the Legislature will fund the universities adequately," said Janet Bingham, UA vice president for advancement.

If there were to be no tuition increase next fall, no new taxes next year and continuing cuts in state funding allocated to UA, the university would face a bleak economic outlook, UA budget director Dick Roberts said.

Approximately one-third of the UA budget is based on tuition revenues, and much of the revenue the UA receives from other sources is reserved for specific uses, not day-to-day expenses.

The Arizona Board of Regents will have the final word about next year's tuition when it meets April 25 and 26. Hull is an ex-officio voting member of the 12-member board.

"I think we're probably going to need to hold onto our hats because it's going to be a rough ride ahead for universities," Lopez said.