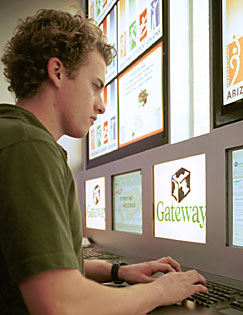 KEVIN KLAUS/Arizona Daily Wildcat

Liberal studies freshman Sean McGonigle uses one of the new computers located near the food court in the Student Union Memorial Center on Friday. Many people using the computers said they like the location but had difficulties searching the Internet.

By Brandon Johnson
Arizona Daily Wildcat
Tuesday Jan. 15, 2002

Students enjoy the convenience of food and e-mail in one stop

Students can now grab a bite to eat and check their e-mail at the same time, thanks to a newly installed computer system in the heart of the Student Union Memorial Center's food court.

The new Campus Link system, which was set up over winter break, has six Gateway computers linked to the web, enabling students to surf the net or send an e-mail message to friends.

There are also two television monitors that can show breaking news or scroll a list of campus events.

In addition, there are two phones and a directory with telephone links to some of the most requested numbers campuswide.

Central to the system is an information center containing brochures and pamphlets about various campus services.

The unit was donated free of charge to the university from the California-based Campus Link. The University of Arizona only had to provide the wiring for the system, said Dan Adams, director of the student union.

Advertisement panels on the unit help pay for the cost of the wiring.

Adams said the large student body was a major reason Campus Link wanted to bring the system to UA.

"We think it covers a lot of information for us," Adams said. He added that it gives students a place to find out what is going on around campus and check their e-mail.

Students seem to like the new system.

"Everyone uses the food court to eat, and half the time you need to check something on the Internet, too," said business freshman Benjamin Cortese.

He added that the new computers allow individuals to stay away from computer labs that are often crowded.

Others seem to echo this attitude.

"I think it's a sign that technology is becoming more integrated into the university," said architecture junior Nathan Harwell. He said the new system is convenient if you have 10 minutes at lunch and want to send an e-mail to a friend.

The system sits along a wall that will eventually be torn down when the union is completed in December. Plans are to move it to a permanent location at that time.

Gateway will replace the computers with new units every 18 months and then give the old computers to the university. These units will likely be used elsewhere within the union.

Arizona State University has had a Campus Link system for several years, and other major universities such as University of California-Los Angeles, University of California-Berkley and Northwestern Universty also have the system.