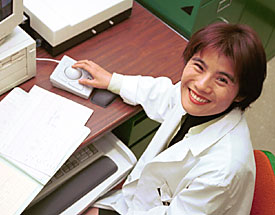 KRISTIN ELVES/Arizona Daily Wildcat

Professor Shu-Fen Wung demonstrates a program at the College of Nursing that is being used to read signals from patient's hearts. The study led by Wung recently received a $1.73 million, four-year federal grant to more effectively diagnose heart attacks.

By S.M. Callimanis
Arizona Daily Wildcat
Tuesday Jan. 15, 2002

New method of diagnosis will make it easier to identify health problems

Emergency room workers may soon be able to identify and treat heart attack victims with a lot more certainty after a UA study investigates diagnosis methods.

The study, led by University of Arizona College of nursing professor Shu-Fen Wung, was recently funded by a $1.73 million, four-year federal grant.

Wung's study, which is currently in its preliminary stages, will work with equipment already found in most hospitals, focusing specifically on the electrocardiogram, or EKG.

The EKG is a device that maps out the electrical activity in a patient's heart by way of 12 electrode leads placed around his or her chest.

The study will increase this number to 15 - which Wung says will generate more signals from the patient's heart and give doctors a more complete picture of the possible heart attack.

"We will add an additional three leads, which will generate more signals," Wung said. "I hope to validate some EKG criteria with the added leads to accurately detect (heart attacks) in the back side of the heart by placing additional leads in the back."

Often, patients coming into the emergency room with chest pain may be misdiagnosed because a heart attack that occurred in the back wall of the heart may not be detected using the traditional number of leads.

"Sudden heart attacks in the back of the heart are usually difficult to see," Wung said. She said that because of this, they are frequently misdiagnosed, which can make it difficult to effectively treat the heart attack when it is discovered.

Dr. Steven Goldman, chief of cardiology at the Veteran's Affairs hospital, is a collaborator on the project. Although the scope of the project will be "a difficult undertaking," he said it could potentially change the way health care professionals routinely treat heart attack victims.

In addition to the EKG, Wung's study will use patients' blood samples, which will determine if a heart attack has occurred, and another machine called the cardiac echo, which identifies the site of the attack.

Using these three sources of data, Wung plans to study and interview more than 1,000 suspected heart attack patients.

Another aspect of her research involves a follow-up on the patients. Six months after being discharged from the hospital, the heart attack patients will be interviewed again.

Using the added electrodes "is simple, easy to do and can be done using machines we already have," Wung said. "In one or two more minutes, this may offer a significant contribution in the detection of (heart attacks)."

The study, which is funded by the National Institute of Health and the National Institute of Nursing Research, will be conducted at the Southern Arizona VA Health Care System, where there is a large population of older, male patients.

Wung said she hopes to expand the study to University Medical Center in its second year.