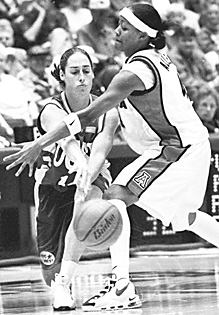 KEVIN KLAUS/Arizona Daily Wildcat

UA sophomore guard Candice Allen defends a UCSB player during last night's loss in McKale Center.

By Lindsey Manroel
Arizona Daily Wildcat
Tuesday Jan. 15, 2002

UC Santa Barbara gets first win over Bonvicini, 'Cats streak ends at 2

In the 11 years head coach Joan Bonvicini has been in control, the Arizona women's basketball team had never lost to UC Santa Barbara - until last night.

After playing an even battle for the majority of the second half, the Gauchos sparked a 15-4 run with just under four minutes remaining in the game to defeat the Wildcats 94-80.

"It's a great tribute to all the ex-Gauchos who have never been a part of this," UCSB head coach Mark French said. "Joan's a great coach and it feels great."

Flawless from the Gaucho bench, UCSB forward Kayte Christensen took on the role as leader in what she said was a tribute to French.

The UCSB junior shot a near-perfect 94.1 percent from the field, converting 16-of-17 from the floor.

While grabbing 11 rebounds, Christensen rallied for 34 points in the Gaucho victory.

"Arizona had good defense and pressured our guards, (so) that all the credit goes to them," Christensen said. "We have been struggling with our confidence and with fire and intensity that this win will help with that."

Christensen's near-perfection marked her 21st career double-double, her sixth of the season.

She also set a new McKale record for shooting percentage from the field.

The old record was set by former Wildcat Tatum Brown after shooting 91.7 percent on 11-of-12 shooting against Colorado State on Dec. 6, 1999.

Christensen was not alone, but rather, had the help of 6-foot-8 center Lindsay Taylor.

Taylor converted a perfect 6-for-6 from the free-throw line, adding 14 points to the Gauchos' victory.

"Having Taylor with Christensen is a great compliment. It's hard to guard two good players," senior forward Elizabeth Pickney said.

The Wildcats looked like a different team than the one that defeated Washington 83-69 Saturday afternoon and blew by Washington State 107-57 Thursday night.

"Fatigue played a factor; I don't know if it was mental or physical fatigue," Bonvicini said. "We shot too many 3-pointers and needed to get the ball into the hands of the posts."

Arizona shot a total of 32 attempts from behind the three-point line and converted 12 for 37.5 percent.

Junior guard Julie Braise added 17 points, while sophomore guard Aimee Grzyb contributed 16.

Sophomore guard Candice Allen, who returned for her fourth game after nursing a grade-three concussion, contributed 12 points after setting a career-high 25 points against Washington.

The Wildcats begin a four-game road trip later this week.

Arizona faces Southern California on Thursday and UCLA on Saturday.