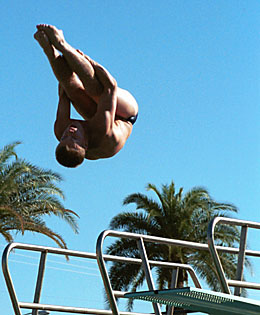 JON HELGASON/Arizona Daily Wildcat

UA sophomore diver Josh Anderson begins a dive earlier this season at the Hillenbrand Aquatic Center.

By Josh Bogorad
Arizona Daily Wildcat
Tuesday Jan. 15, 2002

The winter break apparently could not cool down the UA swimmers and divers.

The swimming and diving teams continued to prove they are powerhouses in the country this weekend in an action-packed series of events.

In Dallas, the No. 4 Wildcat women beat No. 7 Southern Methodist 146-108 in their fifth meet of the season. The win moved their record to an unblemished 5-0 on the season. Senior Wildcat Beth Botsford led the team to victory, posting first-place finishes in three individual events.

The No. 8 men suffered their first loss of the season, falling 134-128 to No. 21 SMU.

Despite losing the meet, there were several high points for the men.

Senior Roland Schoeman won two events, while sophomore Greg Owen took home first place in two events of his own.

Schoeman said the loss was a learning experience for the team.

"Everybody was upset about the loss," Schoeman said. "We wanted to come as close to a perfect record as possible. I've come to the realization that you learn more from a second-place finish than you do focusing on a win."

Meanwhile, in Tucson the men and women divers had their hands full as they welcomed divers from around the country to the Arizona Diving Invitational.

Stealing the show from the UA men's squad was senior Omar Ojeda. Ojeda, who broke his own 3-meter school record earlier in the season, finished first in two of the three men's events, including the 3-meter. His score of 650.19 in the 3-meter was almost 100 points better then his closest opponent. Arizona's Josh Anderson won the other event in the men's category.

For the women, it was UA's Claire Febvay who stood out, winning two out of three events. Her only loss came in the women's 3-meter when she finished second to BYU's Kelli Einfeldt.

Both teams now have two weeks off until they travel to northern California on Jan. 24 and 25 to face Stanford and Cal in back-to-back meets.