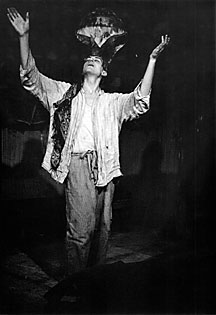 Photo courtesy of Borderlands Theater

Award-winning actor Andrés Alcalá camps it up as Molina, an effeminate gay man imprisoned for "gross indecency." Alcala is one of the two male leads in the Borderlands Theater production of "The Kiss of the Spiderwoman."

By Graig Uhlin
Arizona Daily Wildcat
Tuesday Jan. 15, 2002

A South American prison cell seems a bleak and unlikely locale for a story whose major themes include love, compassion and the bonds between humanity. Yet, unlikely as it is, this is the setting of the play "The Kiss of the Spiderwoman," presented by Tucson's Borderlands Theater.

In fact, actor Rafael Untalan, one of the play's leads in this two-man production of the much-adapted work, said the location is integral to the message of the play.

"The play says love can exist, hope can exist, compassion can exist, even in the most desolate of circumstances," Untalan said.

Untalan plays Valentin, a political prisoner of Argentina's "Dirty War" when the military took over the government and "instituted a Reign of Terror," he said.

"In my personal back story for Valentin, he was a kind of Marxist revolutionary," Untalan said, who later mentioned that his character's only possession in prison is a 1841 book by Karl Marx. "If he had lived in an open society, he would have been a respected leader."

Untalan added that before he received his acting training, his educational background was in political science and international studies of Latin America, so he was familiar with the historical context in which his character lives.

"It was important for me to ground my character in that reality," Untalan said, adding that this proved difficult as Americans, including himself, are far removed from this bleak reality. "The circumstances growing up in America in the 20th or 21st century are so different from what they (in Argentina) grew up in. It was hard to find that reality subjectively, and it's a very hard place to be every night."

Valentin is being held for withholding information, the release of which would cause thousands to die. After being tortured, he is placed in a cell with Molina, an effeminate gay man (played by award-winning actor Andres Alcala) who has been imprisoned for "gross indecency." Molina escapes from the destitute conditions of prison life through acting out scenes from his favorite movies, often taking on the personas of glamorous female film stars, including the "Spiderwoman."

It is through their forced confinement that these two incredibly different men find their common humanity.

"What's fascinating is how different these guys are. One is grounded in this morbid reality (Valentin), and the other one has created this fantasy world to escape (Molina)," Untalan said. "What's fascinating is that they find a common ground in their humanity."

For Alcala, Molina's transformation follows an arc away from her initial selfishness (Alcala refers to Molina as "she" not out of gay stereotypes but because his character "believes that he is woman inside").

"From the beginning of the play," Alcala said, "Molina is preoccupied with what she has to do to get out (of the prison). But by the end of the play, the arc of this character shows that there is a way of becoming unselfish and to do something for someone else."

Because even if she cannot get Valentin out of prison, she can give him hope through her fantasy stories, Alcala said.

Untalan characterized Valentin's transformation as a "rehumanization."

"Metaphorically I would say he goes from resisting death to accepting it, and resisting love to accepting it," he said. Hardened by his political philosophy and the deadening effects of his torture, Untalan said that through his interaction with Molina, Valentin "is able to accept the idea that he's going to die, and able to accept the love that Molina is giving. It's a pretty huge journey."

Both actors are reviving their roles from a production of the play in Portland, Ore. in early last year. While the roles they've had in the interim (Alcala played Iago, Untalan the poet Shelley) has made getting back into character somewhat difficult, they both agreed that the break has enabled them to "rediscover" these roles and "push them farther."

The production of "The Kiss of the Spiderwoman," directed by Dan Foote, opened this weekend at Zuzi's Little Theater, 738 N. Fifth Ave. - Alcala said the response so far has been "very positive." The play runs through Jan. 27. For information about tickets and show times, call 882-7406.