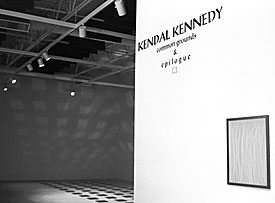 KRISTIN ELVES/Arizona Daily Wildcat

Small mirrors strategically placed on the floor by Kendal Kennedy reflect overhead lighting onto the ceiling and walls inside the Joseph Gross Gallery yesterday afternoon. Kennedy's exhibits "Common Grounds" and "Epilogue" will be on display at the gallery all this month.

By Shaun Clayton
Arizona Daily Wildcat
Tuesday Jan. 15, 2002

Joseph Gross exhibit combines techniques from east and west

When people look into a mirror, they often want to see their present physical appearance - wrinkles on the skin, hair out of place or blemishes.

Artist Kendal Kennedy, however, would prefer for people to look into the mirror and the past. This idea comes across in "Common Grounds" and "Epilogue," two of her abstract art exhibits currently on display in the Joseph Gross Gallery.

"Common Grounds" consists of small mirrors, placed about a foot apart on the floor of the gallery. Overhead lighting hits the mirrors and reflects onto the walls and ceiling.

"My use of mirror as (the reflector) and the light as (the reflected) takes place in front of the audience," Kennedy explained. "The mirrors become the transformers of light to the embodied reflected light, as we do by self-reflection."

In "Epilogue," calligraphic forms derived from the Persian poet Rumi are done in white pastels on gray paper to conjure academic images of writing with white chalk on a blackboard.
---
If you go...
"Common Grounds" and "Epilogue" will be at the Joseph Gross Gallery through Feb. 14.
Kennedy will give a lecture, "The End of Shahnameh," on Jan. 24 at 5 p.m. in Social Sciences Room 100. The lecture will discuss her calligraphic drawings of the same title. On Jan. 25, an artist's reception will be in the Joseph Gross Gallery from 5 p.m. to 7 p.m. Admission to both events is free.
---
"I wanted the series to look and feel like a lesson, physically temporary, but long-lasting in our minds," Kennedy said.
Kennedy, who was born in Tehran, Iran in 1965, eventually moved to Greenwich, Conn. in 1980 after a stay in Braunschweig, Germany. Through art, she said she tries to create connections between the Western world and her Iranian heritage.
"My privilege has been in living and studying in both cultures," she said. "I am made up of what I have experienced and learned from the two value systems, the high arts and aesthetics, the literature, the humanities and the teachings and philosophies which parallel each other. Both backgrounds come through my art works. I cannot separate them as I cannot separate my childhood from my adolescence."
Though at first glance the two pieces at Joseph Gross may seem very simple, Kennedy said "Common Grounds" took about a month to get the concept together and "Epilogue" took two weeks.
"I think in abstract forms," Kennedy said. "Even my use of calligraphy is abstracted to fit my criteria for minimalism and abstract expressionism aesthetics and sensibility."
The forms presented in "Common Grounds" and "Epilogue" are consistent with the rest of Kennedy's work, which is in several major museum collections and has been exhibited internationally, including in Iran.
Kennedy received her Master's of Fine Arts from the Pratt Institute in New York and now is an education doctorate candidate to teach college-level art at Teachers College, part of Columbia University. She is currently the director for the Macy Gallery in New York City, the president of the Persian American Research Society and serves on the board of directors at the Center for Iranian Modern Arts.
As a person who is seeking to be a teacher, she has this advice for others desiring a career in the arts: "Find your true voice and do not lose sight of it."