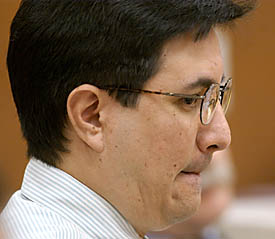 Courtesy of Arizona Daily Star

UA employee Ralph McCormick was convicted yesterday of first-degree murder in the August 2000 death of his wife. McCormick, who has been working at UA since he was released on bond in November 2000, faces the possibility of life in prison.

By Arek Sarkissian II
Arizona Daily Wildcat
Wednesday Jan. 16, 2002

Facilities Management employee may face life imprisonment

A jury found a UA employee guilty yesterday afternoon of first-degree murder and arson in the August 2000 death of his wife.

Ralph David McCormick, a senior office specialist for facilities management, will face the possibility of natural life in prison after a Pima County Superior Court jury found him guilty of first-degree murder and arson.

The jury found that McCormick beat his wife, Maria Velasquez-McCormick, to death with a baseball bat in their midtown home and then left her body in a rental car that was set on fire.

Pima County Prosecutor David Quantz said that on the night of the murder, Maria Velasquez-McCormick arrived home to her husband, who had drunk 16 beers throughout the day. After making sexual advances at his wife, Ralph McCormick hit her in the face with a baseball bat.

His wife reportedly swallowed four of her own teeth before dying from several other blows from the bat.

Velasquez-McCormick's body was found in a burning car in the desert near the intersection of West Anklam Road and West St. Mary's Road.

Defense attorney Michael Piccarreta argued that McCormick should have been convicted of a lesser charge because of the influence of alcohol and rage, as well as the presence of the bat.

McCormick spent two months in jail while awaiting trial but was released after his family was able to post $250,000 bond. The bond had originally been set at $1 million, but Judge Leslie Miller reduced it on Nov. 21, 2000.

McCormick returned to work at the University of Arizona on Nov. 29, 2000, and has been employed at UA since then.

University spokeswoman Sharon Kha said last night that officials will likely decide today whether McCormick would remain an employee of the university.