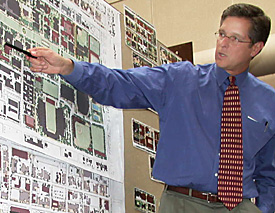 JON HELGASON/Arizona Daily Wildcat

Planning consultant Adam Gross presents his vision for future campus construction projects in the Agriculture building yesterday afternoon. Gross spoke to representatives from campus departments and colleges about possible projects, which include new residence halls at the entrance to the Mall on Campbell Avenue.

By Daniel Scarpinato
Arizona Daily Wildcat
Wednesday Jan. 16, 2002

Officials need to be 'creative in developing' new plan to increase diversity

UA officials announced Monday that they would reverse an earlier plan to create a vice provost for diversity.

University of Arizona Provost George Davis announced at Monday's Faculty Senate meeting that lack of support for the position caused administrators to reconsider their decision to create the new job.

Davis had originally backed the new position, which was described at November's Campus Town Hall as a full-time administrator who would tackle inconsistencies in the pay and hiring of minority and female employees.

At that time, Davis and Taylor said the administrator would be hired even though the university was in the midst of a campuswide hiring freeze.

The hiring freeze has not ended, but Davis said the position was bypassed not because of a lack of funds, but rather, a lack of support.

Davis said officials decided not to create the position after talking to deans and faculty who said hiring an additional administrator to deal with diversity would have been "counter-productive."

"The feedback was so unanimous," said Saundra Taylor, vice president for Campus Life. "Having a position was an old model."

Instead, the university will look for alternative ways to encourage and increase campus diversity.

"We need to be really creative in developing what our plan should be," Davis said.

He said awareness on campus, particularly among deans and department heads, would be a better way to encourage diversity.

"Deans have accepted the leadership challenge," Davis said.

UA President Peter Likins said he and Davis jumped the gun on the proposed position.

Still, both Likins and Davis said they would continue to make diversity issues a high priority.

Likins has repeatedly drawn upon the Grace Report, a study that examined salaries of women in the Arizona Health Sciences Center. That study found that, on average, women are paid less than men.

Likins said the discrepancy in treatment and pay is a "call to serious responsibility from the university."

In addition, the Millennium Project, which revealed that women and minorities throughout the university earn less money, has also drawn attention to diversity issues.

UA is already beginning to break ground on the problem. Vice Provost for Academic Affairs Elizabeth Ervin is on sabbatical this semester researching diversity issues with Harvard University, Taylor said.

Taylor said the Grace Report and the Millennium Project will both be factors in the university's diversity efforts.

"We're looking for more input on · how we can plan a more strategic effort to create diversity," she said. "Whatever we do with diversity should be broad-based."

The diversity administrator would have been paid a similar salary to the two other vice provosts, which is around $120,000 a year. Taylor said the money that would have paid that salary will instead be earmarked for diversity issues. The money for the position would have come from Campus Life funds.

Officials are on somewhat of a deadline. The North Central Association, which accredits the university, is expecting a plan from UA by spring 2003 on how to increase diversity.

They made this request based on observations made in 2000.