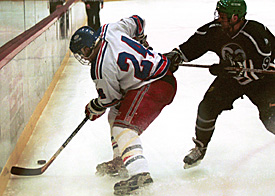 MATT HEISTAND/Arizona Daily Wildcat

Icecats' senior defenseman Pavel Jandura, left, battles for a puck on the boards against a Colorado State opponent Saturday night in Tucson Convention Center. Earlier this season, Jandura scored his 44th career goal, setting a team record.

By Dan Komyati
Arizona Daily Wildcat
Wednesday Jan. 16, 2002

Ice hockey was the last thing on senior Pavel Jandura's mind when he arrived in the United States in 1996. He left his native Czech Republic only to study English and advance his education, with a return to his homeland imminent.

Then he saw an advertisement for the Arizona Icecats. Ice hockey for children in the Czech Republic holds the importance of Little League baseball for American kids, and Jandura was curious to see the brand of hockey played in the desert.

So he witnessed what many rabid sports fans in Tucson have long coveted - an Arizona Icecats game at the "Madhouse on Mainstreet."

After sitting in the stands for only one game, Jandura quickly rekindled his interest in the sport he played since the age of 4.

A friend set up Jandura's meeting with head coach Leo Golembiewski in the winter of 1996, and after practicing with the team while attending school at Pima Community College, Jandura's enrollment at UA in 1998 signaled the start of his Icecat career.

The Icecat coaches anxiously anticipated Jandura's impact. And thus far Jandura has disappointed no one.

Adapting his European finesse game to a more physical North American style of play, Jandura quickly became a star on the blueline for the Icecats, and a fan favorite among the Tucson Convention Center faithful.

The fondness has been mutual.

"I love the fans here," said Jandura, who is still trying to master the English language. "They are a main reason that I am still here."

Another reason might be the superstar status he has amassed while playing hockey in Tucson.

Earlier this season on a goal against Utah, the senior became the all-time leading scorer among Icecats defenseman with 41. He is also the all-time leader in assists among defenseman with 88, and he has yet to slow down this year, as he is fifth on the team in scoring with six goals and 11 assists.

"No one could have foreseen that he would accomplish what he has," Golembiewski said. "He showed an interest in the program, so we wanted to provide him with an opportunity and hope the chips fall positively. He's made the very most of his opportunities."

While he has brought his own talent to the Icecats program, what he has received from his experiences playing hockey far transcends any on-ice athletic accomplishments.

"The hardest thing for me coming to a new country was communicating and learning the language," Jandura explained. "I've caught most of the language being around the guys on the ice and in the locker room.

"My teammates are all great guys, and they have made (the transition) much easier for me."

Golembiewski has enjoyed watching Jandura mature and develop a sense of humor in the locker room with his American teammates. He said he believes that Jandura's uniqueness is illustrated by his success not only on the ice but within the classroom - all the while managing a personal life that includes a marriage.

"He's a heck of a student and a great example to anyone - being a kid not from the U.S. and to be able to perform so well in the classroom," he said. "He has exemplary desire and hard work. He's the perfect example that if you want something bad enough, you might have to make personal sacrifices to achieve it."

As his hockey career in Tucson winds down, Jandura said he hopes this year's Icecats team can set a few marks of its own. UA has not finished better than fifth in the American Collegiate Hockey Association playoffs during the last four years, and Jandura said breaking that streak would be a perfect ending to a very successful career.

"This team works harder than in the years before," Jandura said. "We have shown a lot of heart, and it would be great to make it to the final four."

The ability to participate in his childhood love while studying in Tucson has also profoundly affected the future plans of the 23-year-old.

Jandura plans on going to graduate school in Arizona after he graduates in May and earn a master's degree in finance. He's keeping his options open, along with his hopes to play professional hockey, possibly in the United States.

As for a possible return to hockey in his homeland after his schooling is done, Jandura said he isn't certain.

"I'm not sure about going back (to Czech Republic)," Jandura said. "I'll have to talk to my wife first."