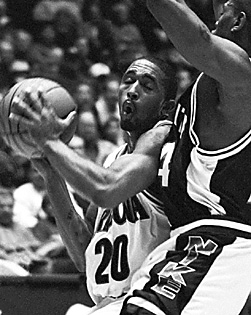 KEVIN KLAUS/Arizona Daily Wildcat
Freshman guard Salim Stoudamire attempts to move past a Nike Elite defender earlier this season during an exhibition game in McKale Center.
Free throws can be one of the most difficult shots in the game of basketball - just ask Shaquille O'Neal.
However, for freshman guard Salim Stoudamire, there is nothing to it.
"I just focus on making the shot," Stoudamire said. "It's wide open, so I should be hitting a lot of the shots."
In fact, Stoudamire is so focused at the line, he was unable to hear Washington State public address announcer Glenn Johnson's announcement say, "Salim Stoudimire is a perfect free-throw shooter in conference play," as the freshman went to the line with under a minute remaining in Arizona's win over the Cougars.
The comment was met with harsh criticism from Arizona head coach Lute Olson.
"That's about as unprofessional and unethical as anything I've heard," Olson said. "That's really bush for somebody in an official capacity at a university to pull that."
Stoudamire has missed just one of his 40 free throw attempts so far this season, and his streak of 29 free throws in a row ties him with Dylan Rigdon (1993-1994) for the most consecutive free throws made at UA.
Stoudamire's .975 percent shooting from the line is leading the Pacific 10 Conference and is fourth in the country.
---
While Arizona made noise with its strong play to start the season, the rest of the Pac-10 has been following suit, and a national publication is taking notice.
In the latest edition of Sports Illustrated, the Pac-10 was ranked as the strongest performing conference thus far.
The criteria considered were top-to-bottom parity, schedule strength, results, good wins and bad losses.
Currently, the Pac-10 has secured five of the top 25 spots in both The Associated Press and ESPN/USA Today polls.
---
Following a sweep of the Washington schools, Arizona climbed in the rankings as expected. The Wildcats now sit in the No. 15 spot in The Associated Press poll and at No. 18 in the ESPN/USA Today poll.
However, the Rating Percentage Index, or RPI - a method of ranking teams used by the NCAA since 1981 - has Arizona in the No. 2 spot behind Kansas.
The percentage reflects winning percentage, strength of schedule, and opponents' strength of schedule.