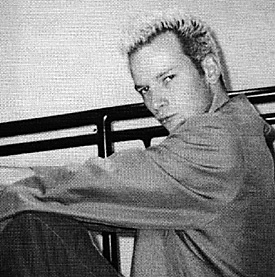 Photo Courtesy of Horrors Unspeakable

Lucero Less, a studio arts senior, stars in the upcoming play "Mounted and Pinned," a metaphorical play about butterflies. The show runs tomorrow through Saturday at the Cabaret Theater.

By Lisa Lucas
Arizona Daily Wildcat
Wednesday Jan. 16, 2002

UA grad directs butterfly play 'Mounted and Pinned'

UA students recently joined forces to perform the Tucson premiere of "Mounted and Pinned" - an avant-garde drama by South Carolina playwright Sarah Hammond.

The play features the talent and motivation of University of Arizona students, all who are undergraduates studying various disciplines.

Director Anne Heintz, who graduated from UA in December with a double major in English and theater, said she met Hammond last summer and later contacted her with hopes of a future collaboration.

"I contacted her and asked if she had a play that she thought would be good for a college audience, and she sent me this," Heintz said.

She added that she is looking forward to introducing Hammond's work to a Tucson audience.

"(It is) really exciting (because) it's a brand new play and I think Tucson needs work by new, young playwrights," she said.

The title of the play, "Mounted and Pinned," refers to the mounting and pinning of butterflies, Heintz said, but metaphorically, it refers to individuals being mounted and pinned as well.

Heintz said the characters in this play include the lepidopterist as well as a female college student, a young executive and his boyfriend.

"One of the characters is a lepidopterist - (she) specializes in the study of butterflies and moths," she said.

This character - Anda - is played by Morgan Stevens-Garmon, a UA theater arts senior who, like Heintz, said that "Mounted and Pinned" deals with butterflies metaphorically.

"Butterflies serve as a central metaphor (in) the play," Stevens-Garmon said. "My character catches the butterflies; she sees (their) beauty and wants to make it her own."

Heintz added that the significance of butterflies within the play deals not only with Anda's obsession with capturing the creatures but also with other characters' emotional entrapments.

"When you collect butterflies, you mount them and pin them, (and they're) not alive anymore - they're stuck," Heintz said. "And the characters in this play are stuck - whether it's due to sexual politics or whether it's due to family issues. They can't move."

While she said the relationships in this play may seem a bit strange, she maintained that they still reflect real life.

"I think the most bizarre aspect would be the relationships in the play - they're not easily defined, which is actually probably pretty normal," Heintz said.

Heintz, who performed the role of Imogen in August's Horror Unspeakable production "The Exiled," said she finds similarity between the two plays.

"They're both about young 20-somethings, love, sex and friendship," she said.

Heintz added that college students should relate well to the storyline as it deals with issues every student faces in the transition from school to the real world.

"I think everybody can relate to wanting to be in school forever because they don't know what to do with their lives," she said.

Stevens-Garmon added that the play emphasizes the notion of self-discovery for college-age people.

"(The play proposes) the idea of trying to find not so much yourself but trying to find a place where you belong," she said.

"Mounted and Pinned" plays at the Cabaret Theater of the Temple of Music and Art, 330 S. Scott Ave., tomorrow through Saturday at 8 p.m. Tickets are $6. For more information, call 884-4353.