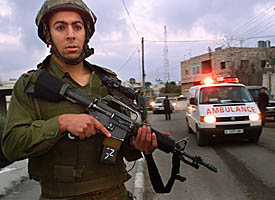 Associated Press

An Israeli soldier secures the area of the District Coordinating Office in the West Bank town of Beit Jalla as a Palestinian ambulance arrives carrying the body of Avi Boaz, an Israeli engineer shot and killed in the Palestinian town of Beit Sahour yesterday.

By Associated Press
Wednesday Jan. 16, 2002

TULKAREM, West Bank - Two Israelis were killed in gun attacks in the West Bank yesterday, including one with American citizenship, even as the two largest Palestinian factions, Fatah and Hamas, said they would stick by a truce despite the death of a militia leader.

The body of a 72-year old Israeli-American man was found in a bullet-riddled car in the Palestinian town of Beit Sahour, Palestinian security officials said.

Israeli officials identified the man as engineer Avi Boaz, an Israeli who also holds American citizenship, who entered the town to buy materials for a house he was building in a settlement. Raanan Gissin, a spokesman for Israeli Prime Minister Ariel Sharon, said gunmen riddled the car with 13 bullets.

Gunmen also opened fire on a car near a gas station outside of the Jewish settlement of Givat Zeev just north of Jerusalem, killing one woman and wounding another in her chest, said Hanan Malka, the settlement's security chief. Malka said the passengers in the car were a mother and her daughter, but he had no other details.

The shootings followed the death Monday of Raed Karmi, a local leader of the Al Aqsa Brigades, a group of Palestinian gunmen linked to Yasser Arafat's Fatah movement. Karmi was killed by a bomb blast in the West Bank town of Tulkarem, and Palestinians said it was the latest in a series of targeted killings by Israel.

Supporters of Karmi took revenge just hours after his death Monday, killing an Israeli soldier and wounding an officer who had left their armored personnel carrier to question two Palestinians at a checkpoint near Tulkarem.

Still, Fatah and the Islamic militant group Hamas said yesterday they were sticking by a cease-fire observed since Palestinian leader Arafat called for a truce on Dec. 13.

"We are still committed to the president's decision to cease fire," Hussein al-Sheik, the Fatah leader in the West Bank, told The Associated Press. "At the same time, we do understand the reaction of Karmi's friends and colleagues."

The Al Aqsa Brigades announced Monday that it would no longer honor the truce, and members of Karmi's militia said they would resume attacks on Israelis.

Hamas, Arafat's main political rival, reiterated yesterday that it would stick to a promise made last month not to carry out suicide bombings in Israel or launch mortar attacks on Israeli settlements.

A Hamas spokesman in Gaza, said Siyam, said last week's Hamas attack on an Israeli army outpost, in which four soldiers were killed, was meant to avenge the killing of three Palestinian teenagers by Israeli soldiers several days earlier. The attack on the post did not signal a resumption of Hamas bombings, Siyam said.

In Karmi's funeral procession yesterday, some 5,000 mourners marched through the streets of Tulkarem, with dozens of gunmen firing in the air. "He's a hero. He killed soldiers and settlers. We are very proud of him," said 13-year-old Moutassem Yehiyeh, one of the marchers.

In response to warnings of revenge attacks, Israel renewed a blockade of Tulkarem.

The latest violence undermined U.S. truce efforts, and it was not clear whether U.S. mediator Anthony Zinni would return to the region later this week as planned. Zalman Shoval, a former ambassador to the United States, told Israel Army Radio that the mission would be delayed, but this could not be confirmed.

In 16 months of fighting, Israel has killed dozens of Palestinians accused of involvement in deadly attacks on Israelis. Israel calls it self-defense, but the Palestinians say it is a policy of assassinations. The targeted attacks, which also killed some bystanders, stopped after Arafat's promise a month ago to enforce a truce.

Israeli Defense Minister Binyamin Ben-Eliezer said yesterday that Karmi was killed in a "work accident," suggesting he caused his own death by mishandling explosives. But he also said Israel had the moral right to kill Karmi, claiming he had planned new attacks in the coming days.

Israeli newspapers referred to Karmi's death as an Israeli "liquidation," and the respected Haaretz newspaper quoted unnamed defense officials as saying Israel killed Karmi.

Karmi, 27, had boasted of killing two Tel Aviv restaurant owners, and Israel said he killed a total of nine Israelis. In September, he survived an Israeli missile attack on his car in which two others were killed.

The Palestinian Authority accused Sharon of trying to sabotage Zinni's mission by seeking to provoke Palestinian revenge attacks.

Fatah officials denied Karmi was planning attacks, saying that in response to the cease-fire call, he had ordered his militiamen to stop shooting at Israelis.

Sneh noted that Karmi had not been arrested by the Palestinian Authority, even though he was on a list of names of terror suspects marked for arrest that the United States had given to Palestinian security forces.