Game 1: The John Mackovic era begins tonight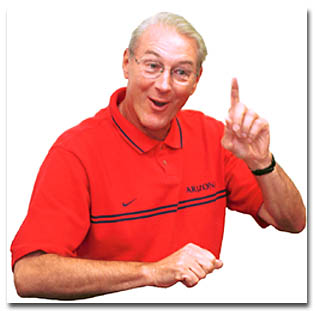 UA head coach John Mackovic
By Kamy Shaygan
---
ARIZONA DAILY WILDCAT
Thursday August 30, 2001 |
For the first time in 14 years, a new face will patrol the Arizona sidelines as head coach.
Tonight's game will mark the regular-season debut of John Mackovic, who replaced former head coach Dick Tomey in December.
Mackovic brings with him a pro-style, pass-happy offense that bears little resemblance to the conservative style that Arizona fans had grown accustomed to during Tomey's reign.
With Mackovic came defensive coordinator Larry Mac Duff, who last season was the special teams coach for the New York Giants of the NFL. Mac Duff's hire became vital when Duane Akina, who was slated to be the defensive coordinator this season, left to coach defensive backs at Texas. Mac Duff is one of a handful of coaches in the country who could continue running Arizona's double-eagle flex defense.
Mac Duff is no stranger to new coaching staffs at Arizona - he was one of Dick Tomey's first hires when he came on board at Arizona in 1987, as defensive coordinator as well. In fact, Mac Duff is one of the people credited with the implementation of the defensive set at UA.
With a new coaching staff and offense, San Diego State head coach Ted Tollner is wary of how to approach the Wildcats.
"You go in with a lot of anxiety because you don't really know," Tollner said. "That makes the game hard because most (teams), once you get game tape on them, are going to change it up week to week a little bit. You believe in a certain thing and you do what you believe in, and right now we're not sure what that is."
Despite what Tollner believes, Mackovic said the SDSU coach has the edge over the Wildcats.
"They have a much better advantage because I would much rather be the team with the experience than a team that has not played together before," Mackovic said.
Arizona hopes to continue it's three-game winning streak against San Diego State, which dates back to the 1998 season, while the Aztecs hope to snap out of their nine-game losing streak against the Pacific 10 Conference.
With all the speculation going around about the new offense, Mackovic guaranteed a noticeable change from the Dick Tomey era. The first of those changes will be at the quarterback position. For the first time in four years, neither Keith Smith or Ortege Jenkins will be under center.
"There is going to be a new life," Mackovic said. "Something is going to be different. I can promise we are going to look different offensively. Will we be ultra successful at that? I don't really know."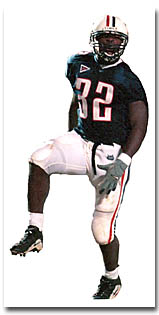 UA running back Clarence Farmer
Junior Jason Johnson was given the nod over six other quarterbacks over the summer, as Mackovic decided he would be best at operating the complex, pass-first offense.
"The fact that Jason Johnson is a fourth-year player who is smart about football and will work as hard as anybody to get ready to play goes a long way towards the stuff we are trying to get done. We will look different, I am sure of that," Mackovic said.
Johnson said he believes that the talent around him will create the mis-matches necessary to being successful on offense.
"We have so many great players on our team," Johnson said. "The strength of our offense is that hopefully we will have great running backs and a great receiving corps as well to keep them off-balance."
The offensive news doesn't only come from Arizona's sideline, however.
The Aztecs' top playmaker is senior running back Larry Ned, who averaged 59.5 yards per game last season. When the Wildcats visited Qualcomm Stadium in 1998, Ned recorded his first 100-yard rushing game of his career, posting 146 yards despite the Aztec loss.
The coaching staff believes that this year's will be Ned's best.
"He came out of spring feeling good about himself and worked real hard this summer," Tollner said. "We believe he is at the top of his game. He's as good as back as there will be on the coast, we think."
The Aztecs coaching staff will rely on Ned to set up its passing attack, lead by quarterback junior Lon Sheriff and the receiving duo of junior J.R. Tolver and senior Derrick Lewis
Mackovic said that priority No. 1 will be stunting the ground attack of the Aztecs, something that the double-eagle flex has proven to be proficient at over the years.
"That's what we have worked a great deal on," Mackovic said. "In our scheme, we like to stop the run first, which top defenses always do."