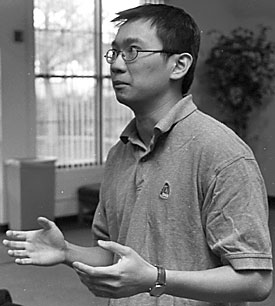 MATTHEW CAPOWSKI/Arizona Daily Wildcat

Gary Yee, a computer science sophomore and president of Yavapai Hall Student Association, speaks to the Residence Hall Association last night at Pima Residence Hall regarding a proposed student-housing cap. The cap would take effect in the fall semester and require students who have attended the university for more than four semesters to vacate the dorms.

By Caitlin Murphy
Arizona Daily Wildcat
Friday Feb 1, 2002

Students agree housing crunch is a problem but disagree with four-semester limit

The dorm housing cap, which was just recently implemented, will weaken dorm communities, officials of the Residence Hall Association said last night in a meeting detailing their official stance on the cap.

While the organization supports the prioritizing of freshmen over returning students, RHA maintains that by allowing a housing cap, the university will "contribute to the deterioration of residence hall communities."

The cap, a response to a major housing shortage last fall, limits the number of returning students allowed to live in residence halls to 1,000, and makes students ineligible to live in dorms for more than four semesters.

"I live in Yavapai, and I don't agree with what the administration has done," said Gary Yee, a computer science sophomore and president of the Yavapai Hall Student Association. "The older students are the ones who helped me with my homework and taught me the history and traditions of the UA. They are vital to the system."

In the preliminary statement issued by RHA, the association agreed that a resolution to the ongoing housing shortage must be reached, but that the board does not agree with the four-semester cap.

"This statement is a collection of the thoughts and feelings that I have received from (residence hall representatives) and what (they) feel should be done," said RHA Vice President of Campus Affairs Anne Brooksher, as she introduced the statement.

Exceptions to the housing decision will be given to students applying for a resident assistant position. Any student who has not completed four semesters of coursework and has not chosen to become an RA is eligible to apply for campus housing. Older applicants, however, must arrange to live off campus.

Associated Students of the University of Arizona Sen. Doug Hartz was present at the meeting and reinforced ASUA's stance on the matter.

ASUA passed a resolution in mid-January that said they supported a one-year delay in the implementation of the four-semester cap.

"We acknowledge the fact that the administration was forced into a decision regarding housing," Hartz said. "However, we maintain that we are opposed to the manner in which it was decided. These students should be given an opportunity to transition."