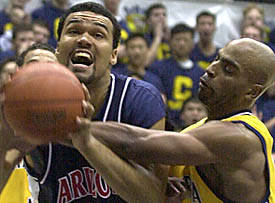 Associated Press

Freshman Wildcat forward Isaiah Fox struggles with a Cal defender for the ball last night in Berkeley, Calif. Arizona beat the Golden Bears, 68-58, to snap its two-game losing streak.

By Jeff Lund
Arizona Daily Wildcat
Friday Feb 1, 2002

It took all of former UA forward Michael Wright's strength to muscle up a last second shot between Stanford's twin 7-footers last season.

Wright's left-handed flick silenced the Stanford crowd at Maples Pavilion, giving Arizona a one-point victory and the momentum it needed to make a run to last year's Final Four.

Wright is gone. So are both of the 7-foot twins, Jason and Jarron Collins.

But plenty of personnel remain to make tomorrow's 6 p.m. matchup worthwhile.

The Cardinal are led by All-American junior guard Casey Jacobsen, who is averaging 19.8 points per game.

Perhaps the most opposing force on the Stanford starting line is 7-foot junior Curtis Borchardt.

After shaking off foot injuries, the center is finally healthy and making the most of his time on the court. Borchardt is averaging a double-double with 15.9 points per game and 10.2 rebounds. Borchardt has also been showcasing his range, hitting 61 percent of his 3-point attempts.

"He's like 7 feet tall, and he's shooting threes," freshman center Channing Frye said. "I can go on and on about him."

Stanford also has a freshman to tout in 6-foot-8 guard Josh Childress.

Last year, Arizona toppled the Cardinal in Stanford, a tall order considering Stanford had only lost one game until Wright's game-winner.

Tonight's game will not have the national implications of last year's matchup between two teams who were in the Top 10, but this time around, Pac-10 positioning is the goal.

Currently, No. 15 Stanford and No. 18 Arizona are two of six teams that have a legitimate shot at taking home the Pac-10 regular season title.

UA junior guard Jason Gardner said playing in Maples Pavilion is unlike any place in the Pac-10.

"Stanford is a tough place to play," Gardner said. "With the fans jumping up and down, they make the rims shake a little bit."