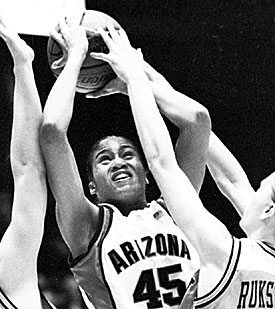 SAUL LOEB/Arizona Daily Wildcat

Wildcat senior forward Elizabeth Pickney shoots a jumper over two Beaver defenders last night in McKale Center. UA blew a late lead, losing to Oregon State, 88-85.

By Lindsey Manroel
Arizona Daily Wildcat
Friday Feb 1, 2002

Women's basketball hands game to Oregon State

Free throws make all the difference, or so the Arizona women's basketball team learned in last night's loss to Oregon State.

After leading the Beavers at the end of the first half of play, 39-34, and with the momentum in their favor for the most of the second half, the Wildcats fell short down the stretch and handed Oregon State an 88-85 overtime win.

"We gave this one away," UA head coach Joan Bonvicini said. "Oregon State fought hard, but we let them have it. We missed key free throws down the stretch and lost the momentum."

From the beginning of the second half, the Beavers demonstrated that they were not going to go down easily.

"We knew we needed to step up in every category," Oregon State head coach Judy Spoelstra said. "This was all about desire and heart and getting on the boards."

Oregon State sophomore guard Leilani Estavan hit a jump shot 15 seconds into the second half to bring the Beavers within three points, 39-36.

Senior center Ericka Cook then brought Oregon State within one point of the Wildcats, 39-38 with 18:56 remaining in the game.

Arizona jumped ahead of the Beavers, 57-48 with 11 minutes remaining in the game after senior forward Elizabeth Pickney converted a jumper for two points.

That would be UA's largest lead of the second half, but not its last.

After a key 3-pointer by sophomore guard Aimee Grzyb, the Wildcats led the Beavers 75-69, prompting Oregon State to take a 30-second timeout with 56 seconds remaining.

Down by six points, Cook was fouled by junior guard Julie Brase and went to the free throw line to shoot two.

Cook converted both free throws to bring Oregon State within four, 75-71.

With 46.4 seconds remaining and Oregon State over the foul limit, Estavan fouled sophomore guard Candice Allen.

Allen made both free throws to give the Wildcats a 77-71 lead.

Then, with 35.9 seconds left Pickney committed a foul on Cook, who made both free throws to cut Arizona's lead to 77-73.

Two key free-throw opportunities may have made the difference in the game.

With 33 seconds remaining, Grzyb missed a one-and-one free-throw situation.

Sophomore forward Hollye Chapman converted a 2-point basket with 25 seconds remaining to bring Oregon State within two points, 77-75.

Then, with 21 seconds left, Brase could not convert from the free-throw line either, giving Chapman one more shot before the end of regulation and with .01 seconds remaining in the game, she sent the game to overtime at 77.

The Beavers ran away with the game in overtime as senior guard Felicia Ragland converted two 3-pointers as Oregon State took its second game this season from the Wildcats, 88-85.

"My team needed me in overtime and in the second half, we stepped up and crashed the boards," Ragland said.

Ragland, who is leading the Pacific 10 Conference in scoring, finished the night with 27 points.

Cook added 20 points while Estavan contributed 15.

Surprisingly, guard Dee-Dee Wheeler - who said on Wednesday that it was unlikely she would play due to a recurring right knee injury - suited up for last night's game.

Despite not practicing much during the week, the UA freshman was the team's third leading scorer and contributed 14 points in 31 minutes.

"Dee-Dee's a tough kid," Bonvicini said. "I couldn't tell she was injured. She looked 100 percent (to me)."

Pickney led the Wildcats in scoring with 24 points while senior center Lakeisha Taylor added 19.

Arizona faces Oregon - who fell to ASU, 69-58 last night - tomorrow afternoon.

"It's a must win," Wheeler said. "We need to protect our house and split the weekend on Saturday."

The Wildcats tip off at 4 p.m. in McKale Center.