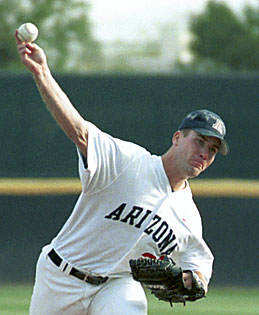 KEVIN KLAUS/Arizona Daily Wildcat

Sophomore staff ace Sean Rierson delivers a pitch last weekend at Sancet Field. Rierson will take the mound for the Wildcats against Utah today at 3 at Sancet Field.

By David Stevenson
Arizona Daily Wildcat
Friday Feb 1, 2002

Let the games begin.

The baseball team opens a stretch of home games - nine in 10 days - against Utah today at 3 p.m.

Arizona opened the season last weekend with a dominating sweep of New Mexico by a combined score of 37-7.

The Utes (1-2) beat Cal Poly San Luis Obispo in the season opener last weekend but dropped the final two games of the series.

Utah first baseman Nate Weese had six RBIs in the opening series. The senior was a first-team All Mountain West selection with a .978 fielding percentage.

Ute junior pitcher Jason Wylie will make his second start of the season on the mound. On Jan. 25, in five innings, Wylie allowed two hits and gave up one earned run for his first victory of the season.

Arizona (3-0) will counter with sophomore ace Sean Rierson, who also won last week against the Lobos. The right-hander went eight innings and allowed two earned runs over eight hits.

UA sophomore pitcher Joe Little will miss his scheduled start Sunday but will be available for relief. Little suffered a laceration above his left eyebrow Sunday that received 20 stitches after being hit by a line-drive foul ball.

Sophomore pitcher Marc Kaiser will start tomorrow, and sophomore Chris Goodman will make his first start of the year Sunday.

"I'm excited about the start. I'll like to show the coaching staff that I can be a starter," he said.

Last year, Goodman started 13 games for the Wildcats and posted a 6.30 ERA. Ironically, he will start for Little, the man who replaced him in the rotation.

"It's sort of a bittersweet thing that Little got hurt, but there's no way I can be happy about that," Goodman said.

UA freshman pitcher Jason Snyder will be reunited this weekend with his twin brother, Jared Snyder. The latter brother splits time between catcher and pitcher for the Utes.

Arizona will play five consecutive games in as many days with the last two against Southern Utah. After an off day on Wednesday, UA will open a three-game series Thursday against San Diego State.

Freshman third baseman John Hardy says the team is ready for the stretch.

"The games are for the players and we just want to play at home," he said.

Today's game begins at 3 p.m. Tomorrow and Sunday's games start at 1p.m. All games will be at Sancet Field.