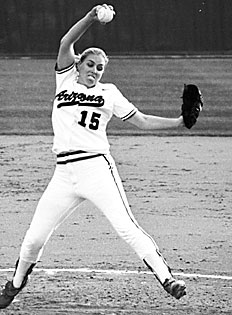 KEVIN KLAUS/Arizona Daily Wildcat

Sophomore UA pitcher Jenny Gladding delivers a pitch last weekend in exhibition action at Hillenbrand Stadium. The Wildcats face their biggest challenge of the nascent season today at home against Alabama. First pitch is scheduled for 4.

By Brandon Johnson
Arizona Daily Wildcat
Friday Feb 1, 2002

Arizona begins defense of its national title today

After finishing six exhibition games without a loss, the Arizona softball team is set to officially start the 2002 season today at 4 p.m. when it plays host to No. 13 Alabama in Rita Hillenbrand Memorial Stadium.

The Crimson Tide are coming off one of their best seasons in school history that saw them put up a 50-11 record and finish No. 7 in the final USA Today/National Fastpitch Coaches Association poll.

Alabama began its program in 1997 and quickly rose to national prominence.

With the hiring of head coach Pat Murphy in 1999, the Crimson Tide made it clear they were serious about playing softball with the best.

In Murphy's second season, he led Alabama to its first NCAA tournament appearance as well as their first trip to the Women's College World Series.

Last year, Murphy called Arizona head coach Mike Candrea and requested an opportunity to play the defending national champions in their home ballpark.

"It's a great place to play. The atmosphere is great and the fans are great. What more could you ask for?" Murphy said. "If you look at the Top 25, I bet less than three (teams) would have agreed to do that."

But beating the Wildcats in their home park is no easy task.

Arizona comes into the game riding a 44-game winning streak - one shy of the school record.

If the Wildcats are hoping to break that record, they'll have to get by one of the nation's best pitchers in senior All-American Shelly Laird.

Laird, who will get the start today against Arizona senior pitcher Jennie Finch, posted a 32-7 record in 2001 while striking out 242 batters and posting a 1.06 ERA.

Laird is joined by two more All-Americans in sophomore first baseman Jackie McClain and senior second baseman Suzanne Olcott.

McClain was solid as a freshman last season, hitting .417 with 59 RBI and 20 extra base hits.

"McClain as a freshman was above and beyond anything we thought (she would be)," Murphy said.

Murphy is also high on Olcott, calling her the best second baseman he's ever coached. Her offense is nothing to be overlooked either. She batted .335 and scored 51 runs for her team a year ago.

Murphy said he knows his team is in for a tough battle against Arizona's dominant pitching duo of Finch and sophomore Jenny Gladding.

"Finch is the top returning pitcher in the country. It's going to be tough to get a run or (even) a hit," he said.

In addition to his core of returning players, Murphy has a large contingent of youngsters. Seven true freshmen are on the roster, including Jennifer Wright , who will get the ball on Sunday for the finale of the three game series.

Candrea said he knows that the Wildcats are not in for an easy series this weekend.

"(Alabama) is a very competitive program," he said. "They're very aggressive, and they swing the bats. I expect (to see) a very solid team."

Candrea said Finch will likely pitch today and Sunday with Gladding - who was recruited by Murphy at Alabama two years ago - in the circle tomorrow.

When Finch takes the mound today, she will put her 40-game winning streak on the line. Her mark is just 10 wins shy of the NCAA record of 50 consecutive victories.

Tomorrow's game gets under way at 1 p.m., with Sunday's first pitch scheduled for noon.