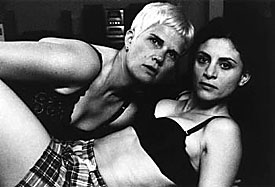 Photo courtesy of the Lesbian Looks film series

Deb Strutt and Liz Baulch star in "Bare," one of the short films playing tomorrow at 7:30 p.m. in the Modern Languages auditorium.

By Mark Betancourt
Arizona Daily Wildcat
Friday Feb 1, 2002

Lesbians are the subject of many movies, but few films. The Lesbian Looks film series is trying to change all that.

The Modern Languages building is not a short walk from most of the dorms, and it's cold outside. Still, the auditorium fills to capacity every year on the weekends in February when the world's films about lesbians come to Tucson.

The 2002 Lesbian Looks Film Series celebrates its 10th year next month and promises a fresh batch of films from around the world that challenge, deepen, and enrich viewers' perspective on homosexuality. It's also free.

This year's screenings include several features, varying from a bio-documentary about the life of a lesbian author, teacher and activist to the seven-year chronicle of a woman's transformation into a man, titled "A Boy Named Sue." There is also a handful of shorts ranging in subject from "coming out" to one-night stands.

The mission of the series is to provide free access to media that provides a variety of perspectives on lesbians and their lives.

Lesbian Looks draws all of its funding from the contributions of several University of Arizona campus groups, such as the Pride Alliance and other organizations.

Director and co-founder of Lesbian Looks, Beverly Seckinger, believes the series has something unique and important to offer its viewers.

"We fill a different niche than, say, the Wingspan Film Festival - another gay and lesbian festival - which needs to turn a profit every year," Seckinger said. "They don't have the campus resources we do, so they bring in the bigger features. We're able to show more obscure things, things by first-time filmmakers; anything we want, basically, because we don't need to make a profit."

This year, Lesbian Looks is broadening its scope further than ever before. With sponsorship from the local transgender organization, TGnet Arizona, the series will include its first transgender film. In April, the Lesbian Cancer and Health Project will join with the Arizona Cancer Center in sponsoring the screening of "My Left Breast," a film diary about the experience of cancer as told by a lesbian.

The variety and honesty of Lesbian Looks films provides a crucial alternative to mainstream depictions of homosexuality. As gays and lesbians appear more frequently on television and in mainstream film than ever before, a new set of problems presents itself to those who wish to bring audiences the truth about the gay experience.

"There are more images of homosexuality in the mass media than, maybe, 30 years ago, but that doesn't mean the images are better," said Caryl Flinn, a UA women's studies and media arts professor.

"What's important about Lesbian Looks is that these films are made by directors who aren't feeling like they have to satisfy producers' demands," Flinn said. "They explore the various facets of living as a lesbian in different cultures."

Flinn praised the films of Lesbian Looks as explorations of the tribulations and joys of lesbian life, as well as its external manifestation.

"We're finally seeing the closeted and uncloseted in these films," she said.

Seckinger said she hopes the Lesbian Looks series helps people who may be struggling with their own homosexuality, especially students.

"College students are at a prime age where they're figuring out who they are, figuring out they're gay," Seckinger said, "People can see these films and say 'There's a whole world of ways to be out there, I can be however I want'."

Most of the films in February screen on Saturday nights at 7:30 in the Modern Languages auditorium. A program with times and other information is available online at http://w3.arizona.edu/~lgbcom/.