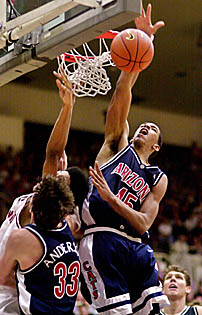 Associated Press

UA freshman center Channing Frye blocks a Stanford player's shot Saturday in Stanford, Calif. Frye scored a career-high 22 points in the Wildcats' third straight win in Maples Pavilion.

By Associated Press
Monday Feb. 4, 2002

Frye scores career-high 22 points in win

STANFORD, Calif. - Freshman center Channing Frye took his game outside and became a factor inside.

Frye scored a career-high 22 points and grabbed 10 rebounds as No. 19 Arizona beat No. 18 Stanford 88-82 in overtime Saturday night.

Luke Walton and Jason Gardner each added 20 points as the Wildcats (15-6, 8-3 Pacific 10 Conference) won their third straight at Stanford and improved to 7-3 against ranked opponents this season.

Curtis Borchardt recorded his eighth double-double of the season with 25 points and a career-high 21 rebounds - tied for fifth-best in school history - as Stanford (13-6, 6-4) lost for the first time this season at home. Casey Jacobsen, who had 49 points Thursday night against Arizona State, finished with 24 points.

"Channing was very good," head coach Lute Olson said. "He made the most of his shots. We were able to free him more often than I thought we could and Channing took advantage."

The Wildcats rallied from a 15-point deficit in the second half behind the accurate shooting of Frye, who was 10-of-13. He is shooting 76 percent from the field over his last eight games and had his fourth double-double of the season.

"I came into the game wanting to stay out as far as I could," Frye said. "When I made the first shot, I thought to myself, 'I can make these.' Borchardt's a good player and the only way to beat him is to stay outside."

Arizona committed just eight turnovers, three after halftime. The Wildcats had 59 in their previous three games.

Rick Anderson's hook shot with 4:01 left gave the Wildcats their first lead, 77-76. He also made a shot with 43 seconds left that gave them an 83-79 lead.

Arizona made its free throws in the final minute to hold on, improving to 3-1 on the road in Pac-10 play when trailing at halftime.

"We needed this game to push ourselves back into the Pac-10 picture," Gardner said. "A play here and a play there made a big difference in this game."

Stanford couldn't get a shot off on its last possession of regulation. Jacobsen was called for an offensive foul as the shot clock was winding down.

"Arizona upped the tempo, and we could not catch up," Stanford coach Mike Montgomery said. "We had our opportunities."

Gardner's 18-foot shot at the buzzer hit off the front rim, sending the game to overtime.

Stanford was 1-of-12 from the floor, including several missed layups, in the final 11 minutes of play.

"We're all Division I scholarship players," Jacobsen said. "There is no excuse for missing layups."

After the Cardinal built its big lead, Arizona rallied to tie it at 75-all when Walton made one of two free throws with 2:46 remaining.

"They turned up the pressure a little bit and we couldn't get the ball in our area," Borchardt said.

Stanford built a 14-point lead late in the first half as Borchardt hit seven of his first 11 attempts, including three baskets on offensive rebounds.

The Wildcats began to rally in the final three minutes when Gardner, who missed six of his first seven shots, made three in a row.

The Cardinal led 43-33 at halftime.

Arizona tried a box-and-one at times against Jacobsen and enjoyed some success. Will Bynum and Salim Stoudamire took turns hounding the Cardinal's leading scorer, but that allowed Borchardt room to roam inside.

The Wildcats used a more conventional man-to-man defense in the second half, with Walton predominantly taking Jacobsen.