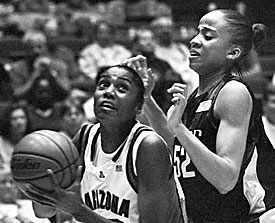 KEVIN KLAUS/Arizona Daily Wildcat

Senior UA center LaKeisha Taylor drives past an Oregon defender Saturday in McKale Center. Taylor had 16 points in the winning effort.

By Lindsey Manroel
Arizona Daily Wildcat
Monday Feb. 4, 2002

Wildcats take care of Oregon, 84-68

Senior center Lakeisha Taylor's 16-point performance, along with senior forward Elizabeth Pickney's 19, helped lead the Wildcat's to 84-68 win against the Ducks Saturday.

Taylor - who shot 63 percent from the field in UA's last two games against Oregon State and Cal - had another strong performance in the home win over Oregon.

"We're a much better team when LaKeisha comes to play," freshman guard Dee-Dee Wheeler said. "We needed a split here, so we needed this win against Oregon."

Like so many games this season, the Wildcats dominated the first half of play and jumped out to a nine-point lead, 34-25.

Taylor, who had 10 points in the first half, led the Wildcats in their victory.

"Being a team player, there's certain times to step up, and my time has come," Taylor said. "I'm just trying to contribute any way I can."

During the second half, the Wildcats kept the momentum going for the entire 20 minutes.

Sophomore guard Aimee Grzyb gave UA an 11-point lead, 36-25, with slightly more than 19 minutes remaining in the game.

Arizona became more aggressive on the boards and grabbed 30 rebounds in the second half.

The Wildcats jumped out to their largest lead of the game after sophomore guard Candice Allen converted a layup with just less than 15 minutes left in the game to give UA a 48-32 lead.

Arizona kept its run going as Taylor extended the lead to 19 points before Wheeler hit a 3-pointer with just more than 12 minutes remaining to give the Wildcats their largest lead of the game at 22 points.

The Ducks would come within an eight-point reach of the Wildcats but could not pull off the come-from-behind win.

"This was a big game and a huge character test," UA head coach Joan Bonvicini said. "After you lose a game like (Oregon State) at home, the last thing you do is criticize (your players).

"I'm very proud of this team. We've had a lot happen, but adversity really tests you."

The Wildcats - who lead the Pacific 10 Conference in free-throw-shooting - shot 24-34 from the line against Oregon after missing key free throws in the final minutes of regulation against Oregon State.

"(Free throws) became very important," Taylor said. "Our free throws gave us the lead and helped us win this game."

Arizona scored its final 17 points from the charity stripe.

"We're a good free-throw shooting team, and we showed it," Wheeler said. "They were very important for the victory."

Pickney tied an Arizona school record for the most free throws made in one game with 15.

Pickney also and grabbed seven rebounds.

Wheeler scored 18 points and Grzyb had 13.

Arizona hits the road to face the Washington schools this week.

"(This win) helps us on the road and gives us mental and physical confidence," Taylor said. "We're going to try to do the same thing we've done before on the road and just play our best game because (both teams) will bring theirs."