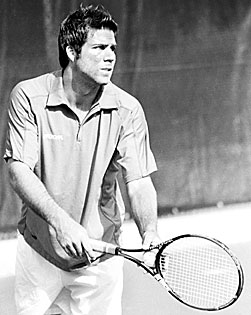 ALYSON GROVE/Arizona Daily Wildcat

Senior tennis player Steven Capriati prepares to serve last week in practice at the Robson Tennis Center. Capriati led the Wildcats to a win in their first match of the season last weekend against San Diego.

By Brian Penso
Arizona Daily Wildcat
Monday Feb. 4, 2002

The season could not have started out any better for the Arizona men's tennis team as it defeated San Diego 6-1 in its first match of the year.

The No. 40 Wildcats had as much success against No. 49 San Diego in singles as well as doubles.

UA finished the match 5-1 in singles matches and 2-1 in doubles.

"This is huge," Arizona head coach Bill Wright said. "This is bigger than huge. This is gigantic. To start off the season against a very good opponent like San Diego is good. Every match we play affects our chances of making it to the postseason, and not having to go into our second match with a loss is great."

Arizona's top player, senior Steven Capriati, defeated Ricardo Ruiz of San Diego 6-2, 6-2 to earn the singles victory, and he teamed up with sophomore Carl Hagman to win their doubles match 9-8.

Junior captain Tom Lloyd said coming out in dominating fashion is exactly the way the Wildcats wanted to start the season.

"To win against a tough team is great," Lloyd said. "We came out and put them away from the start. It was really impressive, and it gives us a lot of momentum going into our next match."

The Wildcats next take the court today against Utah. Wright said he will look to see improvements from each of his players.

"We can play a lot better," Wright said. "We were pretty shaky in our doubles, and I think we were not that sharp. We can improve on that. We just need to come out and play a lot better, and I know we are capable of that."

UA senior Brian Jackson said winning the first match of the season is something the Wildcats can build on going into the Pacific 10 Conference season.

"It is great to gain confidence early in the season," Jackson said. "It is a great start to our season, but we realize it is going to be a challenge. We have to all be ready for battle in each match that we play."

First serve against the Utes is set for 1:30 p.m. in the Robson Tennis Center.