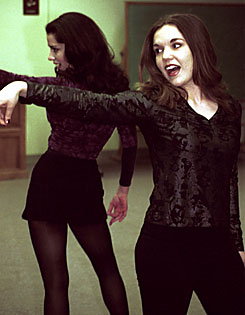 EMILY REID/Arizona Daily Wildcat

Tucson residents, Gladys Robinson, left, and Erin Howell, rehearse Saturday afternoon for the musical, "Triple Threat," at Berger Performing Arts Center. The musical was written by a local man, Terry Howell and runs this month beginning on the ninth.

By Graig Uhlin
Arizona Daily Wildcat
Monday Feb. 4, 2002

Local theater production 'Triple Threat' sings and dances its way to the stage this weekend

Theater is in the blood of Luke Howell.

The media arts freshman is one of the performers in Tucson's Arizona Rose Theatre Company's upcoming original production "Triple Threat" - a show that is largely a family affair.

Luke's father, Terry, penned the musical. His brother Brandon and sister-in-law Stephanie sing, act and dance in the production. All in all, six of the Howells have worked to bring this show to the stage.

"It's the family business," Luke Howell said.

"Triple Threat," which began 15 years ago as an acting class exercise, has developed over the years, changing names and adding new songs to its repertoire. Several versions of the show have been performed since its creation, of which "Triple Threat" is the latest.

"It's a show that (Terry) knows hasn't been produced to the level he's wanted it to be produced in the past," said Brandon Howell, a 1996 University of Arizona business graduate.

"I think it's something close to my dad's heart," Luke Howell added. "He wants to make it better."

"Triple Threat," featuring 12 performers and just as many original songs, concerns the struggles of aspiring young actors to make it big on the theater stage. It is based on the real-life experiences of the play's author.

"I think the play is pretty accurate, mostly because it's based on real experiences," Luke Howell said. "It's something that my dad and my mom did for a long time."

Just as the production's music and look has developed over the years, so too has its message, Brandon Howell said.

"The message of the show has evolved. It has changed," he said. "The message of the importance of community theater is something (that has evolved) in the later productions of the show."

Community theater, the show's actors said, serves as an important breeding ground for future big-name talent and productions.

"This is where movie stars and Broadway stars are created. The people who are on Broadway didn't get their start, necessarily, at St. James (Theater in New York City)," Luke Howell said. "They all started on the community level and worked their way up. That's the statement we make with the show - without community theater, there would be no Broadway."

"Many musicals on Broadway, they get their start in small towns," added Leah Sierra, one of the show's actresses and a 1996 UA fine arts graduate. "It's like the heart of the community. Community theater takes from the community only - so that's its heart right there. And you have to support that."

Even in the face of waning support for community theater, locally as well as nationally - "We don't get the audiences that we'd like to," Luke Howell said - the actors of "Triple Threat" have not lost sight of their primary task as actors - to entertain.

"It's the love of what we do (that keeps Arizona Rose going)," said Stephanie Howell, a 1996 UA English literature graduate. "We love to put the music out there and entertain."

And it is this desire to entertain, Luke Howell said, that maintains those feelings of community and of family.

"Everybody's here because they really, really want to be here. So it's a lot happier environment," he said. "I mean, we're all friends and we're pursuing something that we love to do. It's a community basically. We're a family."

"Triple Threat" opens Saturday at the Berger Performing Arts Center, 1200 W. Speedway Blvd., with performances on Sunday and the following weekend. All Friday and Saturday shows are at 8 p.m., Sundays at 2 p.m. All seats this weekend are $10. Tickets are available through Ticketmaster at 321-1000 or by calling 888-0509.