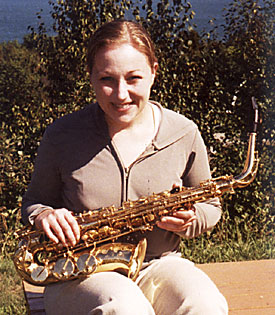 Photo courtesy of Rhonda Taylor

Rhonda Taylor, a UA doctoral student and saxophonist, said she looks to play music not many people have heard. Taylor plays a concert tonight at the Mat Bevel Institute as part of the Zeitgeist "Emerging Voices" series.

By Sanders Fabares
Arizona Daily Wildcat
Monday Feb. 4, 2002

She's working toward a doctorate in saxophone performance. She plays music many people have never heard of. And she wants the public to like it.

Tonight Rhonda Taylor performs a groovy mix of modern compositions and hot improvisation in an environment she finds conducive to freedom of artistic expression. She will play pieces by composers as diverse as Luciano Berio, Bernard Rands, Christian Lauba, Scott Winship and Rick Burkhardt.

The performance is part of the ongoing Zeitgeist "Emerging Voices" program, which highlights local talent. Now in its fifth year, "Emerging Voices" encourages artistic experimentation. The concerts are at the Mat Bevel Institute, a venue Taylor said she believes seeks to support and encourage local musicians.

Playing the alto saxophone since age 10, Taylor said she has as intense love for performing, especially when playing the work of seldom-heard artists. In the last 15 years, Taylor has been able to work with and commission a variety of obscure and well-known composers, including Burkhardt, Justin Rubin, Jon Forshee and Winship.

Taylor said she is excited about tonight's concert and wants audience members to keep an open mind regarding the show's contemporary music.

"It's just really exciting to communicate something that you find incredibly valuable to a group of people," Taylor said. "I love introducing people to new music. People who come to my show will have the opportunity to hear cutting-edge art music. And this is a good sampling of what's going on with modern music right now."
---
"I'm interested in music that pushes the medium forward. This isn't your mom's classical music."
- Rhonda Taylor UA doctoral student and saxophonist
---
Since many of the works were written by emerging composers, they are mostly unknown to the general public as of yet. Taylor said she hopes to give the artists more exposure by playing their works.
"There's definitely something for everybody in modern music," Taylor said.
Since the genre of modern music is open to interpretation, Taylor said she found it difficult to describe the overall mood of the concert's material. She was sure, though, that the pieces are very here and now.
"I'm interested in music that pushes the medium forward," she said. "This isn't your mom's classical music."
Although the majority of the concert will feature Taylor playing solo, she will also perform a duet with the help of friend and violinist, graduate music student Rose Drucker.
"Rhonda is a very dedicated, passionate and talented person. She is always a pleasure to play with," Drucker said. "She plays great music that nobody else plays, because she just wants to get it out there."
Both Drucker and Taylor encourage the public to explore new types of music to keep an open mind.
"If people want to try something new, this would be a great intro to contemporary music," Taylor said.
Tonight's concert will be at the Mat Bevel Institute, located at 530 N. Stone Ave. Taylor's one-hour performance begins at 8 p.m. Tickets are $5 at the door. For more information, call 622-0192.