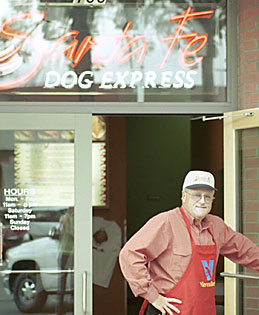 EMILY REID/Arizona Daily Wildcat

Jon Klein, the owner of the newly-opened Santa Fe Dog Express, started his new restaurant on East University Boulevard a few weeks ago. The restaurant offers a variety of hot dogs, including veggie dogs.

By James Kelley
Arizona Daily Wildcat
Tuesday Feb. 5, 2002

Hot dog restaurant will contribute to planned 'food court' atmosphere

A newly opened fast food restaurant on East University Boulevard will contribute to what planners hope will be a "food court setting" in the Main Gate area.

Santa Fe Dog Express, a locally owned fast food restaurant that serves hot dogs with themed toppings, opened less than a month ago at 845 E. University Blvd.

Area planners hope the new restaurant, combined with other area businesses and a planned five-story building at the corner of East University Boulevard and North Park Avenue, will offer students more dining options than they get on campus.

"It brings jobs and a little variety," said Jason Anzalone, president of Platinum Business Solutions, LLC, which does marketing for Main Gate Square. "The university has your typical sandwich place, but the only (other) place you can really get good hot dogs is Wienerschnitzel."

While some Main Gate-area vendors are having problems with business, Jane Klein, who operates Santa Fe Dog Express with her husband Jon, is not worried.

"I can't really say if business is doing good or bad because we have only been open three and a half weeks," said Jane Klein. "We are doing just as well as what I expected. We get a lot students and faculty, and some people even see us in the newspaper and find us just for the hot dogs."

Klein said the highlighted item on the menu is the Santa Fe Dog, which he described as a charbroiled hot dog with a choice of red (hot) or green (mild) homemade chili, green onions and cheese.

"You can't get a better hot dog for better value in Tucson," Jon Klein said.

Despite the fact that none of the hot dogs cost less than $3, one customer said he doesn't believe the prices are high.

"I think the prices and selection are pretty reasonable," said Charles Brown, a senior support analyst, who was dining at Santa Fe yesterday.

The Kleins also hope to become part of the University of Arizona community through a series of philanthropic competitions between university organizations.

Plans for Santa Fe's future include a "Name the Dog" contest, where UA groups will submit name ideas for the restaurant's mascot, a dog in a cowboy hat, Jon Klein said.

Santa Fe, located next to Gentle Ben's Brewing Company, is open Monday through Wednesday and also Friday from 11 a.m. to 8 p.m. Klein said the restaurant is also open from 11 a.m. to 2 a.m. on Thursday and Saturday to accommodate students who are coming home from the bars.