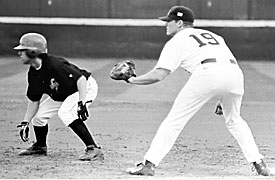 KRISTIN ELVES/Arizona Daily Wildcat

Arizona senior Chris Cunningham holds a Firebird runner on first base yesterday at Sancet Field. Cunningham hit a two-run homer and had three RBIs in the Wildcat win.

By David Stevenson
Arizona Daily Wildcat
Tuesday Feb. 5, 2002

UA beats Southern Utah 10-1 after nine walks

In a day that saw the Wildcat offense put up a season-low five hits, it was the Southern Utah pitchers who provided the scoring for Arizona in a sluggish 10-1 victory.

It took UA nine walks and a three-RBI performance from first baseman Chris Cunningham to beat the Firebirds.

The senior hammered a shot in the fifth inning off the right-field scoreboard for his first home run in exactly two years.

Cunningham, the regular catcher, made his first start of the year in the infield.

"I spent a lot of time at first base during the summer, so it's sort of familiar territory," he said.

Arizona scored three runs in the first inning, courtesy of the control problems of Southern Utah's starting pitcher, Tayor Ehat.

Ehat opened the game by walking the first three Wildcat hitters. He then plunked Cunningham to force in a run. Ehat was replaced after issuing his fourth walk of the inning.

UA sophomore designated hitter Marc Kaiser had a double and three walks to score four runs.

The anemic Arizona offense mustered back-to-back hits in the eighth, the only multi-hit inning of the day.

Head coach Andy Lopez expressed his disapproval in a 20-minute meeting with the team after the game.

"I just think we're doing a poor job of adjusting at the plate, and I wanted to get that all squared away," he said. "I'm not upset with them. (The team) is probably trying too hard to please too many people."

Kaiser disagreed.

"If anything, we're not trying hard enough. It seemed like our will to win was not here, and we really need to pick it up a couple of notches and come out here with a vengeance," he said.

The lone Firebird rally was quickly put to rest when the Wildcats gunned down Firebird right fielder Kurtis Yocum after he tried to stretch a double into a triple in the seventh. The relay provided some excitement for a placid crowd of 317 in an otherwise uneventful day.

Sophomore pitcher Brian Anderson, who injured his knee in Sunday's game, will undergo an MRI in the next few days and is currently listed day to day. Anderson will most likely miss three to four weeks because of the sprain.

Freshman pitcher Will Miller will make the first start of his career today to close out the series.

The game starts at 3 p.m. at Sancet Field.