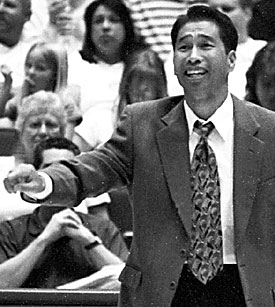 KEVIN KLAUS/Arizona Daily Wildcats

Arizona head volleyball coach Dave Rubio instructs his players from the sideline last season. Rubio, the 2001 NCAA Coach of the Year, signed a three-year contract extension for $82,000 last week.

By Brian Penso
Arizona Daily Wildcat
Tuesday Feb. 5, 2002

NCAA Coach of the Year signs 3-year contract extension

The good news for UA is that women's volleyball head coach Dave Rubio was given a contract extension. The bad news is that it is only for three years.

The reigning NCAA Coach of the Year had his 3-year, $82,000 per-year contract extension approved last week by the Arizona Board of Regents.

"I am so happy to be able to stay here at Arizona," Rubio said. "Arizona has a wonderful athletic department, and it is a great university. With a great class coming in, it is an exciting time for Arizona volleyball."

With continual job cuts occurring on the UA campus, Rubio said he was prepared for many different outcomes but is pleased that he received everything he was looking for in the extension.

"With the economic concerns right now, I was prepared for anything," Rubio said. "I wasn't sure if I was going to get the same contract offered or even a pay cut. I am just happy that I will have an opportunity to get paid to do what I love. I am very fortunate that I get paid for something that I have so much passion for."

Also included in his extension are bonuses that the 42-year-old coach could receive if the volleyball team does well on and off the court, such as compensation for making it to the Final Four and for a high team grade point average.

During his 15 years as a head coach, the former Cal State Northridge star player has amassed a 316-172 record as a coach, which includes three national Coach of the Year honors.

During his 10 years in Tucson, Rubio has taken the worst Pacific 10 Conference team and turned it into a volleyball powerhouse.

UA junior outside hitter Lisa Rutledge said Rubio is single-handedly responsible for the turnaround of UA's volleyball program over the past 10 years.

"Without David Rubio, this program would be nowhere," Rutledge said. "He brings so much passion to the court and he has made us a top-four team. I am so excited that he was given the extension that he deserves."

With the team on the brink of a championship last season and the top recruiting class in the nation enrolling in the fall, junior outside hitter Shannon Torregrosa said Rubio is the perfect coach to bring home Arizona's first-ever national championship.

"He knows how to talk to his players, and he brings out the best in everyone," Torregrosa said. "Everyone on the team benefits from his coaching, and we all enjoy having him as our coach."

Rutledge added that Rubio is the main reason she decided to come to Arizona and that another coach would not be able to maintain the level of play that Rubio has established at UA.

"Dave is such a big part of Arizona volleyball," Rutledge said. "I came to Arizona because I knew what a great coach Dave is. You could bring a coach in here with great accolades and they would not do better. Dave is just such a great coach."