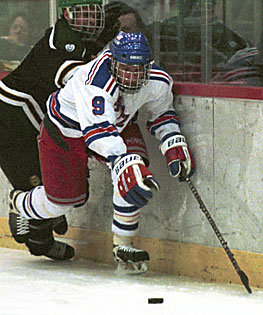 file photo/Arizona Daily Wildcat

UA junior wing Matt Naylor chases a puck along the boards earlier in a game earlier this month. The Icecats swept intrastate rival Arizona State, 4-3 and 5-3, over the weekend in Tempe.

By Dan Komyati
Arizona Daily Wildcat
Tuesday Feb. 5, 2002

A different building yielded a similar result for the Icecats as they renewed their fiercest rivalry this past weekend.

The Icecats earned two typically tough victories as they fought off heated in-state rival Arizona State, 4-3, and 5-3, in Tempe.

The wins - UA's third and fourth in six meetings with ASU - will only help the Icecats as they position themselves for the upcoming American Collegiate Hockey Association national tournament in March.

Ranked No. 11 in the ACHA's latest polls, UA hopes to slide up a few spots in the 12-team tournament. They have two upcoming games at Colorado to help make their case before the final seeds are announced.

In Tempe over the weekend, the Icecats (19-3-1) found that the majority of the 500-600 fans in the standing-room-only crowd made the trip north from Tucson.

Chants of "ASU sucks" created an atmosphere similar to that of a mini-Tucson Convention Center, and the Icecats made certain that none of their supporters left the building unhappy.

Saturday night, UA took control of the game with a four-goal barrage in the second period that put them ahead 5-1.

After sophomore center Andrew Fredricks tied the game at one in the first, sophomore defenseman/forward Braden Koprivica - who later suffered an injury and whose status is uncertain for next weekend - put the Icecats ahead for good with a goal of his own.

Senior co-captain Kyle Neary added his team-leading 32nd goal of the season, and senior Pavel Jandura scored his 12th goal in seven games since his move from defenseman to left wing. Freshman center Mickey Meehan also had a tally for the Icecats.

Freshman goalie Bryan Aronchick continued his solid play in net with 23 saves, earning his 18th victory in the 5-3 decision.

The last two wins were a bit more challenging for the first-year netminder as the smaller ice surface at Tempe's Oceanside Arena gave him less time to react to attacking forwards.

"They were tough games because of the smaller rink," Aronchick said. "The play was really back and forth, no one could keep control of the puck, and the momentum kept changing pretty quickly."

The quick changes in momentum were even more evident during Friday night's contest.

UA had to battle back twice from one-goal deficits in order to turn away the Sun Devils.

After junior center Dave Loftus stayed hot with a goal in the first period, Jandura found the net in the second, but the Icecats still trailed 3-2 after two periods of play.

Like many times earlier this season, the final period of hockey Friday belonged to UA's top line, as Neary and Loftus found each other on both decisive goals to secure the 4-3 victory.

Icecat head coach Leo Golembiewski said the play from his top line has carried the Icecats through many down moments this season - especially in the recent absence of their center, senior co-captain Kevin Meehan.

"I'm really happy with all three offensive lines, and Loftus and Neary have been the real spark plugs all season long," Golembiewski said. "Dave is pretty unassuming. He goes out and works hard and does a real good job for us."

The head coach continued to praise the efforts of his entire defensive unit and gave credit to a team that has far surpassed anyone's expectations - including his own.

"If anybody would've told me that we'd have 19 wins at this point of the season, I'd have said they were nuts," Golembiewski said. "This team continues to define itself, and I'm really proud of the guys."