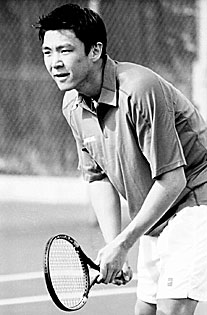 ALYSON GROVE/Arizona Daily Wildcat

Arizona sophomore Whi Kim prepares to return serve last week in practice. Kim and the Wildcats defeated Utah yesterday, 5-2, in their second dual match of the season.

By Brian Penso
Arizona Daily Wildcat
Tuesday Feb. 5, 2002

The UA men's tennis team continued its winning ways as they handed Utah a 5-2 defeat yesterday at the Robson Tennis Center.

The No. 40 Wildcats went 3-1 in their singles matches and 2-1 in doubles matches to earn the victory.

Arizona's win over the Utes brings its record to 2-0 on the season.

UA head coach Bill Wright said he was satisfied with his team's play.

"We played pretty well, but we came out flat," Wright said. "They came out and were pressing at times, but in all, we played well."

Arizona sophomore Whi Kim solidified the Wildcats' will to defeat Utah in his singles match victory against the Utes.

Kim battled back after losing the first set 2-6 to defeat Corrie Sheepers 2-6, 6-3, 6-3.

"I think I played all right," Kim said. "I struggled a lot today, but I fought back. I think I just wanted it more (than Sheepers). It was really good to have a match like this early in the season."

Wright said Kim's mental approach to singles matches is the way one needs to think in order to be a successful tennis player.

"Kim fought hard to come back," Wright said. "You always want to fight harder than you hit the ball. We have to all have that approach in every match."

Besides Kim, senior Steven Capriati - UA's top-ranked player - breezed past Nik Yip, 6-3, 6-2.

Junior captain Tom Lloyd also played well against the Utes as he earned a 6-3, 6-2 victory over Daniel Lohff.

Kim said the team's level of play against the Utes was good this early in the season.

"We played pretty well," Kim said. "We had a pretty convincing win over Utah. We struggled a bit with doubles, but we only lost one point. We played well today."

The Wildcats continue their 10-match home stand Friday against Northern Arizona.