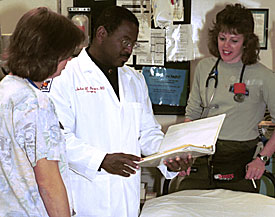 EMILY REID/Arizona Daily Wildcat

Dr. John Porter discusses a patient's file with nurses Robin Richards, left, and Sherry Palmer in the trauma center at University Medical Center yesterday. Porter was appointed the new director of trauma and critical care and professor of surgery for UMC in December.

By Matthew Muhm
Arizona Daily Wildcat
Wednesday Feb. 6, 2002

Two new surgeons help keep level one trauma care open in Southern Arizona

In hopes of maintaining its level one trauma care, the UA department of surgery has hired a new director and associate director to head the UMC trauma center.

Dr. John Porter was appointed director of trauma and critical care and professor of surgery in December. After taking the position, Porter hired Dr. Mark Williams as associate director of trauma and critical care and associate professor of surgery to aid the program.

Before coming to Tucson, Porter was associate professor of surgery and director of trauma and critical care at Northeastern Ohio University's College of Medicine.

A graduate of Johns Hopkins University school of medicine, his research specialties include resuscitation of patients, use of antioxidant therapy in critical care, and violence prevention.

Williams received an undergraduate degree in chemical engineering from the University of Colorado, Boulder, and graduated from the medical school at the University of Southern California.

His research includes invasive hemodynamic monitoring, use of nasogastric suction in colorectal surgery, and laparoscopic incisional hernia repair.

Porter and Williams arrived at a pivotal time for University Medical Center - the trauma center at University Medical Center was nearly shut down in December due to lack of funding. State and local dollars will help keep the service open until at least the end of 2002.

Dr. Allan J. Hamilton, head of the department of surgery, said that once this year is up, the center will again depend on government funds to stay open. He said legislators look at how this year's funds were handled to decide on additional funding for next year.

Hamilton said he is confident that Porter will lead the trauma program in the right direction to secure more funding. He said the high quality of Porter's leadership is what the program needs to move ahead.

"He is an inspiration," Hamilton said. "He is a shining example of what we hope to accomplish."

Although the fate of UMC's trauma center is uncertain for next year, neither Hamilton nor Porter said they feel the service will be terminated. Porter said he is "confident" that the community will do what it takes to make sure trauma services are available to those who need it.

Hamilton said funding for trauma centers is a nationwide problem. He said it would take federal dollars and support from the general community to keep such programs running.