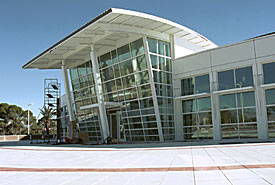 SAUL LOEB/Arizona Daily Wildcat

The Eddie Lynch Athletics Pavilion, a new addition to the north side of the McKale Center, is almost complete. The construction of the pavilion was funded by $13.5 million in private donations.

By James Kelley
Arizona Daily Wildcat
Wednesday Feb. 6, 2002

A nearly complete $13.5 million addition to the McKale Center will serve to attract more student-athletes to the university, officials say.

The addition, known as the Eddie Lynch Athletics Pavilion, is the first step in the process of updating McKale to better cater to student athletes, said John Perrin, senior associate director of athletics for business affairs.

He said the construction of the pavilion - with its "state of the art facilities" - played a key role in attracting student athletes to the university this year.

The pavilion consists of three parts: the top will house the Jim Click Hall of Champions and both the Bill Estes Jr. Family Strength and Conditioning Center and the Michael Casser Family Medical Services Center will sit below ground.

Formal dedication ceremonies should take place the first week of September.

"The 21,000 square foot Strength and Conditioning Center, as of last year, was one of the top five in Division 1-A," Perrin said. "I don't know where it ranks since then though, because they are always building.".

Once the Bill Estes Jr. Family Strength and Conditioning Center is completed, the current weight room will be transferred over and construction will begin on a new women's locker room.

Once the old locker room has been moved, it will be converted to a new academic center.

"I think it will help the program," said Aimee Estella, a gymnastics athlete and physiological sciences sophomore. "There will be room for a lot more teams," she said.

While the building is almost finished, the entire project, which includes a larger women's locker room and academic center within the original McKale Center, will not be done until June 2003.

Leading to the Jim Click Hall of Champions is the Legacy Lane, the "historic walkway," composed of about 4,000 tiles that can be purchased and engraved with messages. The money made will go to the Wildcat Scholarship Fund, and as of the last count, 800 have been sold.

"As far as construction goes, they are just finishing up on a few minor things and the whole thing should be done by the end of summer," said Steve Kozachik, assistant director of athletics for facilities & event operations.

The Pavilion, which is about 95 percent complete, was paid for entirely by private funds.