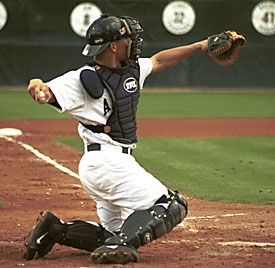 KRISTIN ELVES/Arizona Daily Wildcat

Freshman catcher Chris Cunningham throws the ball back to the pitcher yesterday against Southern Utah at Sancet Field. Cunningham hit his second home run in two days in Arizona's 11-8 win.

By Maxx Wolfson
Arizona Daily Wildcat
Wednesday Feb. 6, 2002

Six freshmen contribute in Arizona's 11-8 win

When the wind blows straight out at Sancet Field, cars driving down Sixth Street beware.

A day after UA could muster only five hits, the Arizona offense exploded yesterday for 11 runs on 13 hits to beat Southern Utah 11-8 at Sancet Field.

"The wind has been blowing in for six games; it was nice to see it blow out today," said UA freshman third baseman John Hardy, who homered in the fourth inning.

Hardy was one of four Wildcats (7-1) in the afternoon to hit home runs.

Coming into yesterday's game, Southern Utah (0-6) scored only five runs in its first five games this season.

Yesterday, the Firebirds had six runs after the third inning off UA freshman right-hander Will Miller.

Miller, making the first start of his career, struggled in his three innings of work, allowing six earned runs on seven hits.

However, three relief pitchers held Utah to one earned run over the next six innings, and senior right-hander Matt Wersel got his first win at Arizona.

Sophomore pitcher Anthony Sulser closed out the game for the Wildcats, earning his first save of the season.

"It just felt good to pitch again," said Sulser, who made a costly error in the Wildcats' lone loss Sunday against Utah in extra innings. "I just needed to get back out there and get that one out of my head. It's not fun to go to sleep with that on your mind."

Sulser will be able to sleep better now knowing that the closer role is his until sophomore pitcher Brian Anderson comes back.

"I thought he pitched very well, especially after Sunday's experience," first-year head coach Andy Lopez said. "He had a chance to bring that with him today, and he didn't, and I thought he did a good job bouncing back from a bad outing.

"He is our guy for now."

Lopez used six freshmen in the starting lineup yesterday, and several of them provided much of the offense for the Wildcats.

Two freshmen - outfielder Jeff VanHouten and catcher Chris Cunningham - homered in the first inning off Firebird starter James Anderson to put UA up 4-1 early on.

Another freshman, designated hitter Richard Mercado, went 3-for-4 on the afternoon with three RBIs.

Lopez said he was happy with the way his younger players responded yesterday.

"We had a lot of games in a lot of days here, and again, we are very young in some areas," he said. "We had to put those young guys out there today, and at moments they looked great, and at moments they didn't look great."

Lopez will have to rely on the young players more now that Anderson will likely be out three to four weeks with a knee sprain. Anderson, who is the team's starting center fielder and closer, was at yesterday's game but was clearly in discomfort, walking with crutches and a brace on the knee.

After playing five games in five days, the Wildcats have an off day today before San Diego State comes to town tomorrow. New SDSU assistant coach Tony Gwynn - a future MLB Hall of Famer - will travel with the Aztecs to Tucson.