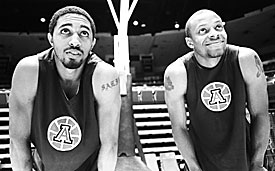 MATT CAPOWSKI/Arizona Daily Wildcat

Freshman guard Salim Stoudamire, left, and junior guard Jason Gardner catch a breath yesterday afternoon during practice in McKale Center. Gardner and Stoudamire are among the 15 million Americans who suffer from asthma.

By Jeff Lund
Arizona Daily Wildcat
Wednesday Feb. 6, 2002

Two Wildcats learn to perform with asthma

While playing through pain might be one thing for athletes, playing when they can't breathe is another.

For junior guard Jason Gardner and freshman guard Salim Stoudamire, living and playing with asthma is a fact of life.

They are among the more than 15 million Americans, according to the Centers for Disease Control, who suffer from the disease. Asthma is characterized by irritation of the trachea and bronchial tubes and causes narrowing of the airways, shortness of breath and wheezing.

But with the help of training and medications, it will take much more than a chronic lung disease to slow them down.

Since roughly his fourth-grade year in elementary school, Stoudamire has had to deal with the respiratory disorder.

Despite the chalenge asthma creates, he continued to play his favorite sport, basketball, and didn't let his lungs leave him lagging behind.
---
Asthma Facts:
More than 15 million Americans are currently suffering from asthma.
More than 5 million children have been diagnosed with asthma.
Asthma results in between 400,000 and 500,000 hospitalizations each year.
10 million days of school are missed each year as a result of complications from asthma.

Source - The Centers for Disease Control
---
The Lake Oswego, Ore., native said that keeping the disease under control is a constant battle, especially at the college level.
"I have to work harder now than I did in high school," Stoudamire said. "I have to warm up hard and get a sweat."
Assistant athletic trainer Ed Orr said that not only is warming up for the game important, but the administration of medication during the week is vital to the prevention of attacks during a game.
"In essence, a lot of it revolves around taking medication properly," Orr said. "As long as you manage (asthma), you should not have a problem."
Stoudamire said that despite pre-game prevention, he is sometimes still left gasping.
"It affects me when I am not warm for the game," Stoudamire said. "If I am not breaking a sweat (during warmups), my chest will be on fire during the game. A couple of times I have had to come out of the game because I couldn't breathe."
Orr said Stoudamire's troubles are a result of a more severe case of asthma than Gardner's.
"Jason doesn't have much of a problem with (asthma)," Orr said. "There have been occasions when Salim has had to take his inhaler during the game."
Orr said that although severity of asthma does vary, there are no categories to distinguish one case from another.
"There are different degrees," Orr said. "It's a continual thing. It is just a matter of how many problems you have with it."
Since asthma is a respiratory disease, climate can have a lot to do with frequency of attacks.
Orr said that respiratory illness compounded with asthma could cause more severe problems.
"When people get sick, and have asthma on top of that, it can make the asthma worse," Orr said.
Gardner said his decision to choose Arizona - a warm, dry climate ideal for fending off illness - was unrelated to the climate.
"Since I came to Arizona, I haven't had too much of a problem with asthma," Gardner said. "I think that being out here and not having too many weather changes helps me from being sick. I came out here because of coach Olson and for the program."
Gardner, who said he first noticed symptoms of the disease in his middle-school years, has not felt the effects of an asthma attack in quite some time.
This allows him to play at his frantic pace for nearly every minute of every game, something Stoudamire has not had to do for the Wildcats this season.
While Gardner said asthma is not a big deal to him anymore, Stoudamire admits it is a cause for concern.
"It is always in the back of my mind," Stoudamire said. "Sometimes it will just come on."
For Gardner and Stoudamire, losing a step - or a breath - is simply not an option.