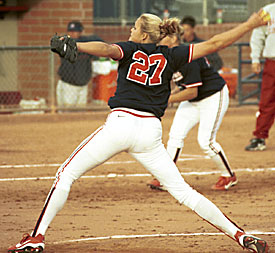 Kevin Klaus/Arizona Daily Wildcat

Senior UA pitcher Jennie Finch winds up for a pitch last weekend against Alabama at Hillenbrand Stadium. Finch extended her UA record win streak to 42 with two wins against the Tide.

By Brandon Johnson
Arizona Daily Wildcat
Wednesday Feb. 6, 2002

Fresh start: Freshman left fielder Courtney Fossatti got her Wildcat career off to the right start. Fossatti reached base in all eight of her official at-bats last weekend against Alabama. She also scored four runs and had two sacrifice hits.

Breaking out: After fanning six times and being hit by a pitch in her first eight at-bats, freshman Jackie Coburn broke out of her slump in a big way on Sunday, roping a three-run homer to center field for her first collegiate hit.

Everyone hits: Sunday, Arizona head coach Mike Candrea cleared his bench, getting all 14 active roster members into the game. Included in that was freshman second baseman Rebekah Quiroz, the newest member of the team. Quiroz, who joined the Wildcats this spring, hit a bouncer between the third baseman and shortstop for her first hit in an Arizona uniform.

Moving up: Friday, sophomore catcher Mackenzie Vandergeest moved into sole possession of ninth place on the school's all-time home run list by hitting the 21st homer of her career. That mark moved her out of a tie with former UA pitcher Susie Parra and put her just seven homers shy of eighth place, currently held by former center fielder Lauren Bauer.

Tough times: The usually dominant Arizona pitching staff ended the weekend with a 2.63 ERA. That figure is up almost two runs from last year's team ERA of 0.77. The combination of senior Jennie Finch and sophomore Jenny Gladding gave up a total of eight runs to the Crimson Tide after giving up just 37 runs between them all of last year. Gladding alone gave up five runs and walked eight on Saturday in her only start of the series. Both of those figures were career highs.

Strange play: Saturday's 13-5 victory will likely be remembered for producing one of the strangest plays in Arizona softball history.

With one out and junior shortstop Lovie Jung on second and sophomore catcher Mackenzie Vandergeest on first, sophomore designated player Leneah Manuma hit a home run to left that just cleared the glove of Alabama sophomore left fielder Angela Johnson.

In the confusion over whether Johnson caught the ball, Vandergeest stopped after rounding second base. Manuma, following right behind, passed Vandergeest, forcing herself out.

The oddities didn't end there.

After the play, Alabama appealed to second saying Vandergeest had missed the bag. Umpire Steve Arnold agreed and gave the third out to Alabama.

The at-bat was officially scored as an RBI single and an inning-ending double play.

Home sweet home: Saturday, Arizona broke the school record for most consecutive home victories by winning its 46th straight at Rita Hillenbrand Memorial Stadium. Arizona's last home loss was a 4-3 eight-inning thriller against Stanford on April 9, 2000.

Jennie: Jennie Finch won her 42nd straight game on Sunday to put her just eight back of the all-time mark of 50 set by Florida State's Rebecca Aase during the 1991-93 seasons. If Finch continues winning, and Arizona head coach Mike Candrea uses the same rotation he used against Alabama, the senior would go for the record-breaking victory Feb. 24 at home against Cal State Northridge.

Jennie 2: Finch also had one of the best individual offensive games in school history on Saturday. Playing first base, the senior went 3-for-3 including seven RBIs on two home runs.

The long road: This weekend, Arizona begins its first of five weekend tournaments over the next six weekends. The Wildcats will see no less than five games in each of those tournaments. Three of the tournaments are at Hillenbrand Stadium.