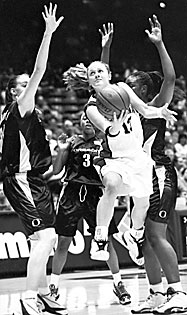 Kevin Klaus/Arizona Daily Wildcat

Sophomore guard Aimee Grzyb slices through three Oregon defenders for a layup against Oregon last week in McKale Center.

By Lindsey Manroel
Arizona Daily Wildcat
Wednesday Feb. 6, 2002

Junior forward Krista Warren will travel with the team to face Washington and Washington State this week but will not play in Thursday's game against the Huskies.

Warren's sprain to her left ankle, which she suffered on Jan. 29 during practice, was classified as a 2nd-3rd degree sprain which she sprained all three ligaments in her ankle.

Warren's status is questionable for Saturday's game against the Cougars but said she is hoping to return to practice by Monday.

"(Krista) is doing a lot better than anyone here or the doctors thought," UA head coach Joan Bonvicini said. "Everyday she's getting a little closer but she's still questionable (for Saturday)."

Warren's presence, who was the Wildcat's second leading rebounder, will be missed as Arizona hits the road in hopes of a bringing home its second sweep of the season against the Washington schools.

"We definitely miss not having her in the games and in practice," senior center LaKeisha Taylor said. "A lot of people have had to step up (in her absence) and have done a great job."
---
Freshman guard Dee-Dee Wheeler's right knee injury that bothered her in UA's game against Cal was diagnosed as inflammation.
Although doctors were not quite sure what was bothering the freshman, Bonvicini said that it is an injury that she had to play with but so far, has not hampered her performance.
"I thought that last weekend was one of her best two games of the season," Bonvicini said. "Before, she was utilizing her quickness and athleticism and now she really understands the game and is becoming a true point guard."
Wheeler shot 4-for-5 from the 3-point line against Oregon to contribute 18 points.
---
This week's games become must wins for the Wildcats as they near the end of their season in hopes of finishing in the top half of the Pacific-10 Conference for the conference tournament.
"In order to get a good seed, you need to sweep - that's what sets you apart from the group," Bonvicini said. "There's a lot of good teams and it's going to be about who peaks in the end."
Stanford (22-1 overall, 12-0 Pac-10) leads the conference.
It is followed by ASU (18-6 overall, 9-4 Pac-10), Washington (13-8 overall, 8-4 Pac-10) and Oregon State (12-11 overall, 8-5 Pac-10).
Arizona (11-11 overall, 7-6 Pac-10) is currently in fifth followed by UCLA, Cal and Washington State.