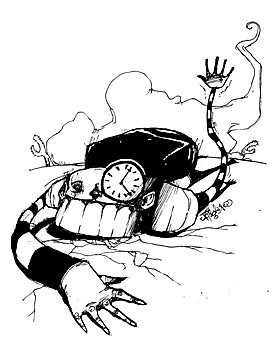 Illustration by Josh Hagler

Arizona Daily Wildcat
Wednesday Feb. 6, 2002

How many students are woken by the ultimate nightmare: Halfway through your last semester, you find out that somehow you missed a general education course. Due to inefficient campus wide advising services, for some seniors forgetting a class is not just a fear, but a reality.

It is no exaggeration to admit that the current advising system is extremely disorganized. Not only are some students missing classes, but others are taking the wrong classes. How about if you want to double major? Then who do you talk to?

On Monday, the Academic Advising Task Force held an open meeting to gather feedback on how the advising system should be changed. They will likely recommend to President Likins a plan to improve advising within colleges that would result in the reallocation of advisers and the installation of a central advising hub.

According to the plan, the Freshman Year Center and the Office for Academic Studies would be relocated to each college. "The bottom line is that students should be closer to their college," said the FYC director Sylvia Mioduski.

But are the colleges prepared for the rush of advising-seeking students? Will the move actually improve things, or will it only result in greater chaos? Let's see what students from various colleges have to say.
---
Take my money, please
First there was a budget shortage. Next, a housing shortage. Now, an advising shortage. I think I'm beginning to see a trend·
I hate to sound like a broken record, but what I've said in earlier columns bears repeating: What this university needs is a good old-fashioned tuition hike. Most all of the difficulties we as a school have faced this year are symptoms of the problem, which is a simple lack of money.
The remedy to the current crisis proposed by the Academic Advising Task Force is well-intentioned, but I'm willing to bet it will be little help to students seeking advising. It certainly fails in one key respect: reducing the ratio of advisers to students. Furthermore, I have to believe relocating advising to individual colleges will only make things more difficult for students who split their time and studies between disparate majors.
However, as Shane Dale suggested in response to Bush's Education Bill, sometimes change is good regardless of the form it takes. As long as the money's not coming in - for whatever reason - there aren't many alternatives to shifting resources around and just hoping something works.
Caitlin Hall is a junior majoring in biochemistry and philosophy. She can be reached at letters@wildcat.arizona.edu.
---
Political science: no complaints here
The idea of shifting more advising duties to individual colleges is a terrific one. It would be much more efficient and a lot less confusing for everyone involved.
Last semester, when I wanted to officially declare my major in political science, I e-mailed political science adviser Mark Barrios my schedule to set up an appointment at a time that didn't interfere with my classes. He quickly responded and set up a time to meet with me for Friday of the following week.
I went in that Friday, told Mark I wanted to declare in poli-sci, and was out of there within 15 minutes. It was plain, simple competency we should all expect from our advisers. Unfortunately, at UA, Mr. Barrios is a rare find.
Giving colleges greater control of advising their own students is a practical solution to a growing problem. Every student should be treated with the same basic amount of respect that was given to me.
And to those students thinking of majoring in political science - well, you've just been given another reason to declare.
Shane Dale is a political science junior. He can be reached at letters@wildcat.arizona.edu.
---
A day in the life of...
8 a.m. - bleary-eyed:
"Hi, I'd like to see an adviser."
"Is it a quick question? Quick Advising can see you if you wait in that line over there."
"Well, I have some serious questions about my future. May I make an appointment?"
"We're already full today. You can come in at 6:45 tomorrow morning and get a place in line or you can try calling in to make an appointment for a week from tomorrow."
"But that's eight days away. There are deadlines approaching, and I really need some advice."
"I'm sorry, that's all we offer."
6:15 a.m. the next morning: "Brrrrring!"
"Shut that off! Are you insane? It's still dark out!"
"Is that my alarm clock?"
"Yes, and if you don't shut it off, the Wildcat tomorrow will read: Roommate dead."
"Maybe I'll forget med school and just bum across Europe. I'll never get an advising appointment."
8 a.m.- anxious:
"Are there any appointments left today?"
"No, I'm sorry. Would you like an appointment a week from today?"
"Yes please."
The academic counselors at the Advising Center for Exploratory Students really are worth it - if you ever get the chance to see them.
Laura Winsky is a senior majoring in Spanish and political science. She can be reached at letters@wildcat.arizona.edu.
---
Start from scratch
The University Advising Task Force hopes to "improve" advising at UA. My first thought is that any change would be an improvement, but merely "changing" the system would do little to help students. Student advising makes it clear why the buildings at the university are red: The entire school is held together by red tape.
My new student orientation was one of the worst experiences I have ever had the displeasure of going through! It seemed as if I went from one muddled, unprepared presentation to another. Very few of my questions were answered, and the ones that were would have been much more useful in the fall.
Last fall, I spent many hours listening to one adviser pass the buck and direct me to another adviser who was equally underpowered.
I don't know what the task force will come up with, but there is little doubt in my mind that the advising system is in desperate need of drastic changes. Those in charge of new student orientations should start from scratch with a white sheet of paper. The task force would be wise to restructure the entire advising system.
Kendrick Wilson is a political science freshman. He can be reached at letters@wildcat.arizona.edu.
---
Get in, get out
Life before college was so easy. I had six classes, and the degree I was going for was a high school diploma. Everything was clear-cut and simple - there wasn't too much complication in which classes I took or didn't take.
However, we're in college now and the first two years are a mystery for most freshman, including myself. You don't know what degree you want, much less what schedule to make or how to make it. The freshmen advising center was an awesome place to go and learn a little bit about a lot of different majors all at once.
With the proposed system, freshmen are going to get even more lost as they run around from college to college trying to figure out what they want to do. Many of my friends used the Freshman Year Center and found it to be very useful because the advisers were centered on the freshmen's needs. The new system takes away from the decision that will affect the next four to six years of the student's academic life.
It is going to hype up advising services in each college, but their concern should be on helping freshmen fit into majors more easily and quickly and setting up a better career services system so that we can get in and out of this university and on with our lives.
Mariam Durrani is a systems engineering junior. She can be reached at letters@wildcat.arizona.edu.
---
Don't just advise - love
I spend most of my days reclining in the fifth floor of the Science Library, sipping brandy and skimming the latest edition of "Kitten Aficionado." Sometimes, this feels a bit decadent and unproductive, but it's exactly what my adviser told me to do. Lately, though, I've been thinking that I was poorly advised.
Upon speaking with several other students on campus, I've found that I'm not alone - almost everyone is upset with UA advising. It takes days to get appointments; advisers sometimes seem not to care, and they cannot advise on a diversity of topics. We need more out of our advisers.
I want to sit down to ambient classical music as my adviser pieces together my schedule without asking anything of me. I want to question my adviser about everything from birth control to the crisis in Zimbabwe and receive clear, concise answers that I don't have to think about. I want an adviser who knows my student ID by heart and can answer to the real me behind my number: What do I want for a snack? Does the universe really face eventual annihilation? And in regards to classes: Where the ladies at?
Or maybe I should just take responsibility for my own curriculum. I don't need an adviser - he's just there to help.
Daniel Cucher is a creative writing senior. He can be reached letters@wildcat.arizona.edu.