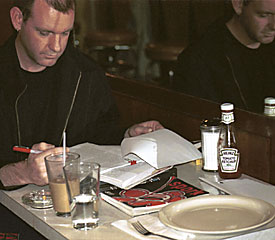 ALYSON E. GROVE/Arizona Daily Wildcat

Drew Burk, co-editor of Spork magazine, works on copy late into Monday night. The magazine's staff will present a literary reading and music at Club Congress, 301 E. Congress St., tonight at 7.

By Kate VonderPorten
Arizona Daily Wildcat
Wednesday Feb. 6, 2002

The literary magazine stork has brought Spork. The young, Tucson-based publication features innovative poetry and prose.

Baby Spork was born at Safehouse, a cafe at 4024 E. Speedway Blvd., three issues ago. After many failed attempts by its daddies (editors Drew Burk and Richard Siken) to create other literary magazines, the juvenile magazine is now thriving in its desert home.

"Richard and I have known each other for years and have worked together on previous projects, and we failed gloriously," Burk said. "We were sitting at Safehouse and we decided that we were going to try it again and this time do it the way it should be done."
---
The Spork staff presents a reading and live music tonight at 7 at Club Congress, 311 E. Congress St. The show will feature performances by the Nick Luca Trio, the Solace Brothers and the Nervous Duane Orchestra.
Admission is free for the reading and $3 for the show.
---
The magazine provides an arena for local authors and attempts to establish Tucson as a literary hotspot.
"Spork represents a wide range of underground writing that is particular to Tucson. It is definitely the only one of its kind for this area," said Joshua Marie Wilkinson, who is a Spork contributor and a poetry and media art graduate student.
Editors of Spork are involved in every stage of the magazine's creation and pay for the project out of their own pockets.
"We hope that eventually it will pay for itself, but right now we front the money," Siken said. Silken is a UA psychology alumnus.
"(Before Spork) I didn't believe that a writer's responsibility to the piece ends with the final period," Burk said. "I believe that we should see it through and have our hands in to until it reaches its final form."
Each issue is hand-bound by contributors and editors. The magazine is then completed with a hand silk-screened canvas cover before being sold at such local locations as Safehouse, Antigone Books, Reader's Oasis, Cafe Quebec, Hotel Congress and Grill.
"Spork magazine is not just a beautiful object - though it is that too. Spork is a destination for some of the most interesting literature currently being written," Frances Sjoberg, events coordinator of the UA Poetry Center, said in an e-mail interview. "Drew Burk and Richard Siken do more than their share to make Tucson a glowing spot on the literary map."
Writers hope the handmade look won't make people negatively judge the magazine by its cover.
"The print and text is really professional, but there is this woven silk-screened '70s attic kind of feel with the cover that is kind of deceptive," Wilkinson said. "They (the editors) have taken on a roots magazine that is really well made and strange at the same time."
The editors said they believe the City of Tucson is perfectly conducive to the creative process.
"Tucson is the Paris of the 21st century. Tucson has all the space and all the time for creative people," Siken said. "I think there are probably more people writing here than in New York. If you want to be a writer, you need to find somewhere that you have the time to. In New York, you have to be a waiter (to support yourself as an artist) -that is why I love it here."
Co-editor Burk agrees.
"A friend of ours said that Tucson is a place where anything can happen but very rarely does," he said. "We want to create the scene that we were promised but never found."